Cisco SF100-16
Overview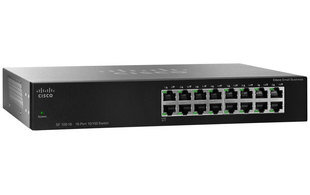 Cisco SF 100-16 16 Port 10/100 Unmanaged Rackmount Switch (UK)
Part of the Cisco Small Business 100 Series networking solutions, are a line of unmanaged switches that provide wire-speed Fast Ethernet and Gigabit Ethernet connectivity to connect your small business office. Available in desktop and rack-mount models, these switches are designed to suit any office space and to optimize power efficiency. They use less power and provide the robust, reliable connectivity your business demands, as well as support for advanced features such as quality of service (QoS)-all in a switch that you can set up yourself, in minutes. A business-class, affordable network solution, Cisco 100 Series switches bring the proven reliability and investment protection of Cisco networking solutions to your small business.
Features
Rack mount network switch
Simple setup: Designed for small office spaces
High performance: Cisco 100 Series switches deliver the performance you need to run your business applications-including bandwidth-intensive video services-and avoid slow and sluggish networks
Reduced energy costs: Cisco 100 Series switches are designed to optimise power usage to be energy efficient without compromising performance
Support for advanced technologies: All switches include advanced Cisco traffic-handling features to keep your applications running at peak performance
Peace of mind: Cisco 100 Series switches deliver the rock-solid reliability you expect from a Cisco switch. The solution has been rigorously tested to ensure optimal uptime and performance
Support & Downloads
What's in the box
Warranty
This product comes with a 1 year manufacturer's warranty.
Media downloads

Cisco SF100-16
High Resolution
|
Web
|
Thumb