Cisco SF100D-08
Overview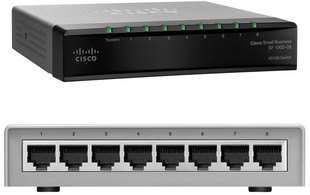 Cisco SF100D-08 8-Port 10/100 Unmanaged Desktop Switch
To stay on top of your business, you need to keep your office running smoothly. These days that means having a highly reliable network connecting your computers, printers, copiers, and other office equipment. But if your business is like most small companies, you don't have an IT staff to set up your network for you. Now you can have a high-performance, business-class office network that just works, right out of the box, with Cisco 100 Series Switches. Cisco 100 Series switches deliver powerful network performance and reliability for small businesses, without complexity. These switches provide all of the features, expandability, and investment protection you expect from Cisco, with no installation software and nothing to configure. Just plug it in, connect your computers and other business equipment, and get to work.
Features
Sets up in minutes with no software to install or configuration requirements
Automatic cable detection, so you don't have to worry about using the wrong cable type
Automatic speed and full- and half-duplex sensing helps ensure that you're running at the right network speed
Auto quality of service (QoS) on all models prioritises network traffic to keep critical network applications running at top performance
Fanless design so switches run silently and unobtrusively
Power-saving technology is able to enter sleep mode, turn off unused ports, and adjust power as needed
Compatibility with network devices from other vendors
Support & Downloads
What's in the box
Cisco 100 Series Switch
Power cord/power adaptor
Mounting hardware
Quick-start guide
Warranty
This product comes with a 1 year manufacturer's warranty.
Media downloads

Cisco SF100D-08
High Resolution
|
Web
|
Thumb