ProVu Webinar: 2N IP Audio Overview
There are no upcoming dates for this webinar. A recording of the webinar can be seen below:

2N's IP Audio system has revolutionised the way companies broadcast announcements and stream music around their premises. With the option to expand the system to suit individual business requirements, it offers the ultimate scalable solution.
We invite you to join us on Tuesday 13th September at 11:00 AM (GMT +1) to learn more about this range in our 2N IP Audio Overview Webinar. Throughout the webinar, we will be taking an in-depth look at this ground-breaking system, plus how it can be implemented to a variety of environments. Ideal for anyone looking to install a paging or broadcasting system, our webinar topics will include: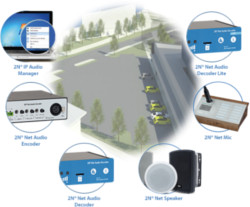 Introduction to the range
Usage scenarios
Technical Features
Software Applications
Pricing and Summary
Questions and Answers
This is a great opportunity for you to expand your knowledge and plan strategies on how to integrate 2N products in to your existing/prospective client's solutions. We expect this session to last no more than 30 minutes.