ProVu webinar: introduction to 2N IP paging and broadcasting systems
ProVu Webinar: Introduction to 2N IP Paging and Broadcasting Systems
Tuesday 16th September 3.00 pm
The 2N NetSpeaker and SIP Speaker units are revolutionising the way companies are broadcasting announcements and streaming music around their premises.
Utilising standard IP Networks the 2N NetSpeaker and SIP Speaker are easy to deploy and enable companies to drastically reduce music licensing costs as they can distribute music and other audio messages to multiple locations from a single source over their existing network.
To introduce these new products, Scott Foster from 2N together with Muhammad Bajwa of ProVu will be holding a webinar on Tuesday 16th September at 3.00pm. The presentation will last approximately 30-40 minutes and will cover the following topics: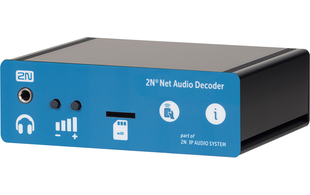 Introduction to IP Audio Systems
2N NetSpeaker Software and Hardware
Technical Features
Hardware Variants
Pricing and Summary
Questions and Answers
Registration Form
Once registered we will send out an email confirmation containing information on how to join the webinar.