ProVu Webinar: Introduction to CounterPath Bria Stretto
There are no upcoming dates for this webinar. A recording of the webinar can be seen below:

CounterPath Bria Stretto is a provisionable, cloud managed softphone which allows you to manage all of your Bria Stretto softphone clients from a secure centralised server. With just a single click you can edit any setting on the Stretto platform and apply it to your selected Bria clients.
CounterPath's Bria softphone clients feature the same easy to use interface across all platforms which include: Apple, Windows, Android or Blackberry. With a range of licenses available, all you need to do is select the license required i.e. mobile, tablet, desktop or user license and provide your end user customer with their login credentials. By combining video, presence and messaging, Bria softphones provide a true unified communications experience across both fixed and mobile networks.
We will be hosting a webinar on CounterPath Bria Stretto on Tuesday 21st June at 11:00 AM, key topics will include: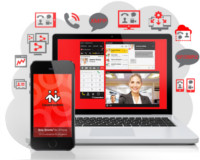 What is CounterPath's Cloud Hosted Stretto Platform and how does it work
What is the difference between CounterPath Bria 4 and Bria Stretto softphone client
How the Stretto platform can benefit ITSPs and IT Administrators
What license types are available from ProVu
Stretto add-on modules
This webinar is a great opportunity for you to learn about the differences between CounterPath Bria 4 and Bria Stretto, plus see how Stretto can help you ease the deployment and administration of user licenses.