Aastra 630d ruggedised Handset
Aastra 630d ruggedised Handset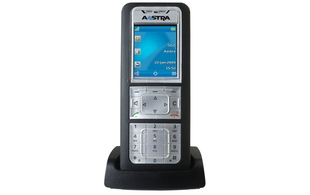 The Aastra 630d satisfies industrial standard IP 65 and with its high level of dust protection and jet-resistant it can be used anywhere outdoors or in production. It is very easy to clean and complies with high hygiene requirements, making it ideally suited for the healthcare sector, too.
With its integrated sensor alarm the phone is ideal for security professions or the prison and detention sectors.
Features
TFT-display (2", 176 x 160 dots, 65,536 colours)
supports IP 65 - high level of dust protection and jet-resistant
one emergency key on the device
Telephone book for 200 contacts*, with 7 possible entries*: office, private, fax and mobile number; email address* and ringing tone* assignment Ambient noise filter for loud environments
44 polyphone (Midi type) and 8 normal ring tones with automatic volume control can be assigned
Up to 5 user profiles for e.g. Headset or meeting usage can be configured Hands free operation
Headset socket - 2.5 mm jack and Bluetooth®
Withstanding a fall on concrete from 2m undamaged (according to DIN EN 60068-2-32)
Intelligent battery management
2 programmable navigation keys
3 colour multi-purpose LED which can be set for signalling numerous operation modes.
Sensor for "Mandown", no-movement alarm, escape alarm
Up to 512 handsets can be deployed using up to 256 IP Base Stations / access points.
* if supported by the PABX