Aastra 6739i
This product is no longer available from ProVu. Check our our range of
IP desk phones
Overview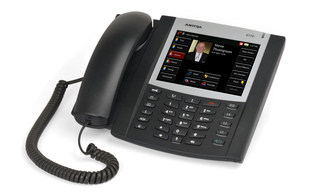 Powerful features in an advanced, expandable executive level IP phone
The Aastra 6739i, our latest member of the carrier-grade, open-standards based 6700i Series SIP telephone portfolio, brings leading edge communications technology to the desktop in a stylish global design. Featuring a 5.7" full colour high resolution VGA touch screen display, the 6739i offers an intuitive graphical user interface, touch screen softkeys, full duplex wideband audio speaker and handset, dedicated LED indicators, built-in bluetooth interface and a USB port.
Large Touch Screen Display
The high resolution (640 x 480) full VGA backlit LCD Touch Screen display is at the heart of the Aastra 6739i. A state of the art display, the screen provides helpful navigational menus to take full advantage of the powerful telephony features this SIP phone brings to the desktop. Adjustable brightness settings can be used to ensure maximum resolution quality in any lighting environment.
Aastra Hi-QTM Wideband Audio Technology
All 67xi Series IP Telephones incorporate Aastra Hi-QTM audio technology to deliver enhanced performance and voice clarity. Integrating wideband audio software and hardware, the Aastra 6739i goes one-step beyond maximising the acoustic performance to deliver a remarkable audio experience on every call, whether using the handset, hands-free speakerphone or headset port.
Flexible Headset Options
Providing enhanced headset flexibility, the 6739i allows for a variety of headset options. Featuring a built-in Bluetooth interface and a dedicated EHS (DHSG) port, the 6739i facilitates mobility around the office while enjoying remarkable audio quality on your wireless headset.
Simplified Deployment
From initial deployment and configuration to future enhancements and upgrades, the Aastra 6739i is designed to save your business time and money. Dual auto-sensing switched Gigabit Ethernet ports eliminate additional wiring and simplify installations without compromising the bandwidth required by power users. Integrated IEEE 802.3af Power-over-Ethernet allows easy deployment with centralised powering and backup.
Features
Up to 9 lines with call appearances
Large 5.7 Full VGA (640x480) colour touch screen LCD
Intuitive graphical user interface and navigation menus
Bluetooth headset support
Aastra Hi-QTM Audio technology *
Up to 55 programmable softkeys
Local 3-way conference
Multi-proxy support
Compatible with a range of corded and wireless headsets:
View our headset guide for list of supported headsets
Supports up to 3 M670i (536M) or M675i (560M) expansion keypads
* Feature availability dependant on the IP Telephony System
Ordering Information
Are you a telecoms / IT reseller, ITSP or installer?

For access to discounted trade pricing, simply register and become a ProVu Reseller today.

Already have an account? log in for trade pricing
Accessories
Are you a telecoms / IT reseller, ITSP or installer?

For access to discounted trade pricing, simply register and become a ProVu Reseller today.

Already have an account? log in for trade pricing
Support & Downloads
Technical details
What's in the box
Aastra 6739i phone
Handset and coil cord
2 x Footstand
Ethernet cable
Wall mounting kit
Documentation CD
Warranty
This product comes with a 2 year manufacturer's warranty
Media downloads

Aastra 6739i
High Resolution
|
Web
|
Thumb