Algo 8180
Overview
SIP loud paging system with loud speaker - ideal for use in noisy environments
The Algo 8180 SIP Alerter is an excellent Tannoy and paging system designed to work with all SIP based IP PBX phone systems. It has two main uses, the first is as a loud ringer for use in places such as garages and warehouses. The second use is as a paging and intercom system. It can operate in both these modes at the same time by appearing as two different extensions on your phone system at the same time.
The 8180 is just like an IP phone and registers as an end point with the SIP PBX phone system. It can then be included in a call group with other extensions so that it alerts people when their phone is ringing. Or the operator can simply page to the Algo 8180 and announce to the person they are required to answer the phone.
The 8180 is equipped with a high efficiency integrated amplifier and tuned high quality loudspeaker. It is typically eight times louder than a telephone speaker. Several audio files are pre-loaded into the 8180 internal memory for ring sounds but users may also record or upload custom audio files, music, sound effects eg dogs barking, or other voice announcements.
Ambient noise monitoring
The advanced features of the 8180 include SoundSureTM technology which automatically adjusts loud ring and loudspeaker volume to compensate for background ambient noise. Ideal for variable noise environments (restaurants, workshops, classrooms, etc.), SoundSureTM ensures that ringing or paging is always heard but not unnecessarily loud.
Applications / Usage scenario
Loud Ringer in noisy or variable noise environments (classroom, restaurant, machine shop)
Voice Paging (warehouse, workshop)
Outdoor ringing or paging
Multi-cast wide area notification
Typical set-up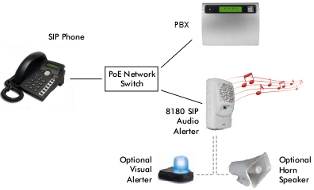 Features
Dual purpose loud ringing and/or public announcement capabilities
High efficiency and high output wideband speaker
Multicast receive or broadcast capability
Outputs for external speaker, slave amplifier, or visual alerter
Significantly louder (eight to twenty times) than typical telephones
Low frequency tones outperform traditional shrill electronic ringers
SoundSureTM ambient noise compensation adjusts output for noise level
Multicasting capability for wide area notification
Customisable
Pre-loaded with several ring tones including bell, chime, gong, buzzer, warble, and dogs
Supports custom uploaded WAV files or recorded messages
Selectable/customisable alert tones or announcements
Easy to Install
Network managed SIP endpoint
Configuration is possible using the feature buttons or web interface
PoE eliminates local power supply
Ordering Information
Order code: Algo8180

MPN: 8180

Availability:In stock

RRP £350.00+VAT

Are you a telecoms / IT reseller, ITSP or installer?

For access to discounted trade pricing, simply register and become a ProVu Reseller today.

Already have an account? log in for trade pricing
Accessories
Please note: When an external speaker is connected to the 8180, the internal 8180 speaker is disabled due to available PoE power.
Are you a telecoms / IT reseller, ITSP or installer?

For access to discounted trade pricing, simply register and become a ProVu Reseller today.

Already have an account? log in for trade pricing
Support & Downloads
Technical details
Support Links
Warranty
This product comes with a 1 year manufacturer's warranty
What's in the box
Algo-8180
Wall mount bracket
Quick start guide
Algo screwdriver
Media downloads

Algo 8180
High Resolution
|
Web
Algo 8180
High Resolution
|
Web

Algo 8180
High Resolution
|
Web