Cisco 7800 and 8800 Series Launch- London
Cisco 7800 and 8800 Series Launch- London
Thursday 26th January 2017
Cisco Offices - London
This event has now passed. If you would like more information about Cisco's 7800 and 8800 Series or any information covered in the event please contact us by email:
contact@provu.co.uk
or call us on: 01484 840048.
Following the success of our Manchester launch event, we invite you to join us on Thursday 26th January for Cisco's 7800 and 8800 Series Launch in London.
Taking place at Cisco's London offices, you can be among the first to see the new 7800 and 8800 Series of SIP Multi-Platform Phones. Through the course of the afternoon you will discover more about the new series of Multi-Platfrom phones from one of Cisco's guest speakers, we will also have Cisco's Technical Support Team on hand to answer any of your questions. This is a great opportunity to get up to speed with the latest range, plus learn more about Cisco's upcoming plans.
This event is free to attend and will include time for networking with lunch and refreshments. Attendees will also receive a free* phone from the new range.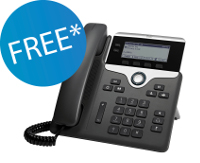 Agenda
1:00 PM - Registration with lunch and refreshments
2:00 PM - Presentations
4:00 PM - Networking with tea and coffee
Cisco Systems
7th Floor
Park House
16-18 Finsbury Circus
London
EC2M 7EB
Thursday 26th January 2017
13:00 - 16:30 (GMT)
Speakers
Simon Brough from Cisco (Product Manager)
Jerry de Boer from Cisco (Technical Engineer)
Luigi Delgaudio from Cisco (Service Provider Channel Manager)
Ian Godfrey from ProVu (Sales Director)
Paul Hayes from ProVu (Product Development Director)
*One free phone per company who attend, companies who have already received a free multiplatform phone from Cisco or at a previous event are not eligible. Free phone will be selected by Cisco and may be any phone from the 7800 or 8800 series.