Gigaset C475 IP DECT Phone and Base Station
Gigaset C475 IP DECT Phone and Base Station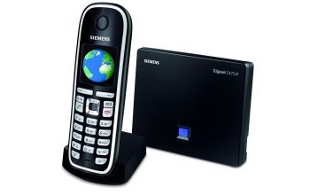 Overview
The C475 IP takes IP/DECT technology to the next level in quality, features and performance.
3 Simultaneous Calls
The DECT base unit connects to both the internet and a land line this phone system can handle 3 simultaneous calls, 2 over broadband Internet (VoIP) and 1 over the normal land line.
Easy Set Up
The handsets menu contains all the main UK VoIP Service Providers and their configuration settings are loaded automatically at a touch of a button and without the need for a PC. One touch allows the user to change between Internet and fixed line telephony.
Integrated Answer Phone
Up to 30 minutes recording time the C475 IP will record messages from both land line and VoIP calls and display a list of your new messages on the handset's illuminated display. You can also access your messages from anywhere in the world thanks to the remote operation function. For extra convenience, the answering machine lets you individually select the recording time for messages and additionally gives the option to record phone calls.
Business or Home Use
The C475 IP can be expanded to form a small phone system for up to 6 additional handsets. The multi line calling feature enables 3 people to talk at the same time and have the added flexibility to place calls on hold and transfer calls between handsets.
Features
Integrated answering machine with up to 30 minutes recording time
Dual mode VoIP and Land Line calls
Up to 3 calls in parallel: 2 VoIP calls and 1 fixed-line call
Easy switch from Internet calls to fixed-line calls by single key press
Expandable phone system with call hold and transfer for up to 6 handsets
Phone book for up to 150 names and numbers
Information services as screensaver e.g. weather forecast,news feeds. All based on RSS.
In the box
Handset
Handset Charger
Stand-alone Base Station (IP+PSTN)
2 Standard AAA Batteries (NiMH)
2 Power Supply Units (base and handset charger)
1 Telephone Cord
1 Ethernet Cable
1 Quick Start Guide (poster)