Gigaset E500H handset (slave handset)
Gigaset E500H handset (slave handset)
This handset has been discontinued. Take a look at the
Gigaset C430H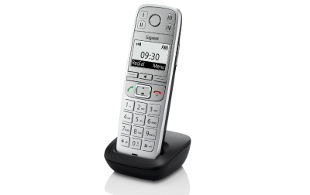 Overview
Easy and instinctive to use, this handset increases the joy of staying in touch. The easy-to-use Gigaset E500H is the intuitive handset designed for true calling comfort. Thanks to large keys on the illuminated keypad and large font size on the high-contrast display, you can effortlessly navigate the menu and make calls. Adjusting the volume to meet your needs is easy: the handset offers built-in easy volume control via a side key. Everyone can enjoy calling with the Gigaset E500H: it comes with enhanced acoustics. And you can even call hands-free with brilliant HSPTM sound quality. Furthermore, radiation-free5 ECO Mode Plus turns off the transmitting power when the phone is in standby.
Exceptionally comfortable design and easy-to-use features make the Gigaset E500H the truly intuitive handset for calling that's as pleasurable as possible.
Features
Large keys for easy handling
Optimal readability on the illuminated, high-contrast display with large font size
Easy volume control via the side key
ECO Mode Plus with no radiation
4 speed dial keys on handset
Enhanced acoustics and hand-free talking in brilliant sound HSPTM quality
Long talk and standby time of up to 25 and 240 hours, respectively
Hearing aid compatible
Caller ID with name and number (Dependent on country, network, operator)
Phonebook with space for up to 150 entries
Please note: the E500H has limited compatibility with the all the Gigaset IP DECT base stations. This means that only basic features such as making and receiving calls will be available.