Gigaset HC450 door entry phone
Gigaset HC450 door entry phone
The HC450 has been discontinued. Take a look at our range of
door intercoms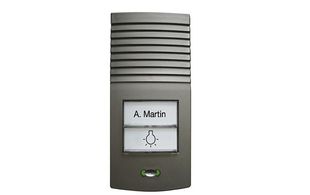 Overview
The Gigaset HC450 intercom is an intelligent yet simple way to control a business or home entrance using a Gigaset cordless handset. The HC450 can be operated locally and also remotely to PSTN, VoIP or GSM phones.
It can be deployed as:
A door entry system for either single entry or dual use entry. Eg: 2 flats, office and residential.
Use the door entry system as part of a mini pbx, with a Gigaset DECT basestation and 5 other extensions
A door entry system which can be connected to other VoIP networks.
In all cases, the Gigaset HC450 is designed to work with a Gigaset base station and to an electro mechanical door latch. This intercom offers real benefits to both small businesses and home users where they can speak with visitors and then open the door using their cordless phone from anywhere within the building.
By pressing the button on the HC450 intercom panel visitors can speak with the occupants using a Gigaset handset. The user speaks to the visitors at the entrance and at the touch of a button can open the door for them and even switch on the light. Installation could not be simpler. Just register the intercom unit with the Gigaset DECT base station, connect it to the door opener system and mount it by the entry door. Select the handset you want to ring or select all registered handsets and that is it.
The DECT wireless standard ensures a secure and stable connection to the intercom in the same way as it does to all cordless phones in the premises.
You also have the flexibility to connect the HC450 to any existing door bell system so the normal audio alert will remain.
Features
Outdoor door entry unit
Door calls Gigaset handsets
Door call Forwarding to external numbers over VoIP, analogue or ISDN
Configurable ringtone and display message indicate bell button has been pressed
Labeled softkeys to open door/switch on light
Information by voice prompt ("door bell is ringing, press 1 to connect") gives user full control
Open door externally via PIN entry
2 illuminated keys with configurable functionality
Two separate bell buttons can talk to different associated handsets
Operation of light relay
Highlights
Door Intercom as an integral part of the Gigaset Cordless Telephone System - it simply registers as additional "handset".
Speak to guests, open the front door and turn on the light using your Gigaset handsets (no connection fee).
Intuitive use and configuration via menus on the Gigaset handset.
Allows call forwarding to any mobile phone in case of absence.
The HC450 works with most door opener systems using 12V AC max: 1A. It has standard connections making it easy to install and saving on having to replace existing door opener systems.
Further information