Products >
Gigaset >
The professional solution for businesses with more than one office
The professional solution for businesses with more than one office
System networking
The standardisation of Gigaset Pro links together all of your offices, creating one big communication network. All inter-site calls are free regardless of geographical location. If you have offices in countries outside the United Kingdom (e.g. the USA), then external calls to the "USA" are routed via the office in the "USA", as a result you pay for a local call rather than an international call. Furthermore, thanks to the integrated fax and voicemail server, everybody has their own personal voicemail account. The business phone book and other functions within the call manager ensure unprecedentedly easy telephone communication. This enables user-friendliness for every workstation and integrates technological intelligence into the very heart of your organisation, creating a comprehensive network of locations and external work stations. This innovative total solution by Gigaset perfectly prepares you for the future.
Features
Easy system management
Easy to install
You can choose from a variety of telephone networks: VoIP/SIP, ISDN and/or Analogue
Connect your home office with the company network using Gigaset IP DECT
Engaged: The busy lamp field displays an overview of your colleagues' call statuses
Free internal calls, regardless of geographical location
Employees at different locations can be part of groups at your location. If the network is over stretched, then the system can look to other locations for free space
Least-cost routing ensures that the system automatically the most cost-effective calling route
When using the DE900 IP PRO, MobileOFFICETM hot desking feature can save all your telephone settings onto a USB stick. You can then move these settings with you.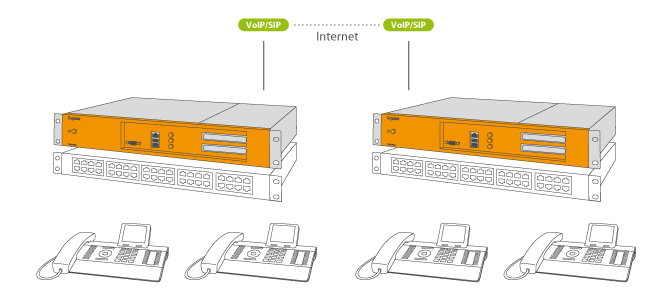 The PBXs and Gigaset compatible components
Choose from a range of Gigaset DECT Phones
View our compatibility guide of working features between the DECT base stations and handsets (as some features may be limited)
Further information
Useful PDFs
View other solutions