WRTP54G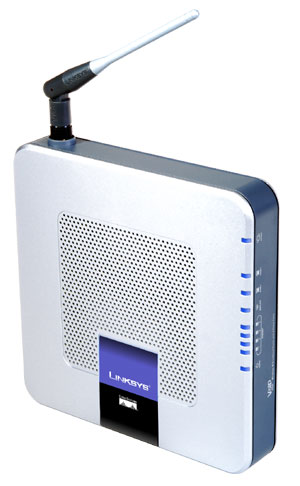 This product is no longer available. Why not take a look at the
Technicolor TG582n
instead
Key features
All-in-one Internet-sharing Router:

4-port Switch
54Mbps WiFi (802.11g) Access Point

Shares a single Internet connection
2 standard phone jacks enable feature-rich telephone service
High security:

Wi-Fi Protected Access (WPA)
Wireless MAC address filtering
powerful SPI firewall
The router allows you to connect up to 4 PCs directly and use your Internet connection for your computers and your phone at the same time, as well as connecting multiple wireless devices.
Through an ITSP, you will get low domestic and international phone rates, Caller ID, Call Waiting, Voicemail, Call Forwarding, Distinctive Ring, and lots of other special phone features.
The Linksys WRTP54G contains a firewall to ensure that your Internet services are secure. Your network is protected from unauthorized and unwelcome users.
---
More Information
View more products in the Linksys Range
The Linksys Range of VoIP adaptors used to be produced by Sipura, who were recently taken over by Linksys/Cisco. The devices are identical internally but now come housed in stylish new Linksys casings.