Cisco SPA 8000
The Cisco SPA 8000 has now been discontinued
Overview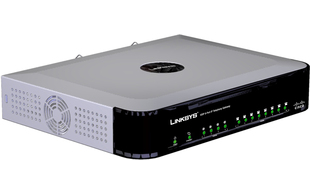 The SPA-8000 is a full featured Analog Terminal Adapter (ATA) for small business enterprises providing enhanced communication services via a broadband connection to the Internet.
The SPA-8000 delivers clear, high-quality voice communication in diverse network conditions. Excellent voice quality in a demanding IP network is consistently achieved via our advanced implementation of standard voice coding algorithms. The SPA8000 is interoperable with common telephony equipment like voicemail, Fax, PBX, and interactive voice response systems.
The SPA-8000 offers all the key features and capabilities with which service providers can provide customized services to their subscribers. The SPA-8000 can be remotely provisioned and supports dynamic, in-service software upgrades. A secure profile upload saves providers the time, expense and hassle of managing and pre-configuring or re-configuring customer premise equipment (CPE) for deployment.
Features
Eight voice ports (RJ11) for analog phones or Fax machines
Impedance Agnostics - 8 Configurable Settings
Call Waiting, Cancel Call Waiting, Call Waiting Caller ID
Caller ID with Name/Number
Caller ID Blocking
Call Forwarding: No answer, Busy, All
Do Not Disturb
Call Transfer
Three-way Conference Calling with Local Mixing
Message Waiting Indication - Visual and Tone Based
Call Return
Call Back on Busy
Call Blocking with Toll Restriction
Delayed Disconnect
Distinctive Ringing - Calling and Called Number
Off-hook Warning Tone
Selective/Anonymous Call Rejection
Touch Tone Phone Keypad Configuration with Interactive Voice Response (IVR)
Fax: G.711 Pass Through or Real Time Fax over IP via T.38
Support & Downloads
What's in the box
Warranty
This product comes with a 1 year manufacturer's warranty.
Media downloads

Cisco SPA 8000
High Resolution
|
Web
|
Thumb