Sangoma FreePBX Harrogate Roadshow
Sangoma FreePBX Harrogate Roadshow
Tuesday 15th March 2016
Convergence Summit North - Harrogate
This roadshow has now past. If you would like more information about the FreePBX products or any information covered in the event please contact us by email:
contact@provu.co.uk
or call us on: 01484 840048.
Ideal for enterprise users, resellers and system integrators this events will be a great opportunity for you to learn more about FreePBX, Sangoma's new reseller programs, and how to make money from the FreePBX and the newly launched Sangoma Phones. The event will also cover some updates on the FreePBX project and the directions it is now taking into vertical markets.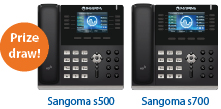 The events will conclude with a networking opportunity with drinks and canapés! Plus there will be a prize draw where Sangoma will be giving out a brand new Sangoma s500 and s700 VoIP phone.
Those who register for this event before Monday the 14th March, will be upgraded to VIP status at the Convergence Summit North show. Your VIP pass will be waiting for you at the show.
Agenda
1:45 PM - Registration & Sign in
2:00 PM - Welcome Note
2:15 PM - The Future of FreePBX
2:45 PM - Sangoma's New IP Phones
3:00 PM - Solution Selling with FreePBX and Sangoma
3:30 PM - Joining the Sangoma Partner Programme
3:45 PM - Networking with Canapés & Drinks
Speakers:
Frederic Dickey, VP Professional Services and Product Management, Sangoma Technologies
Doug Vilim, VP Global Sales, Sangoma Technologies
Simon Horton, Director Product Management and Product Marketing, Sangoma Technologies
Darren Garland, Managing Director, ProVu Communications
When and Where:
Harrogate International Centre
Hall M
Ripon Rd
Harrogate
United Kingdom
Tuesday 15th March 2016
14:00 to 16:30 (GMT)