Sangoma FreePBX 300
Overview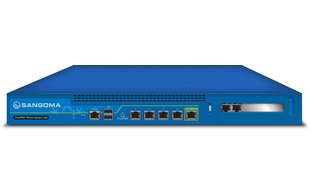 FreePBX is an open source Asterisk® based PBX which can be managed and configured via a web browser. Sangoma offers FreePBX appliance which is a purpose-built, high performance PBX solution.
The Sangoma FreePBX Phone System 300 is for up to 300 users allowing for a total of 120 simultaneous calls. This powerful hardware has a Atom C2000 Octal core processor with 2 x 120GB SSD storage and 4GB of RAM. There are 2 PCI express slots on the appliance which allow users to add any telephony cards from Sangoma's range for PSTN connectivity.
The systems have been designed and rigorously tested for optimal performance, this is the only officially supported hardware solution for FreePBX, offering resellers a commercialised solution with 1 year warranty.
Sangoma's FreePBX systems have a wide set of advance telephony features that are included as standard, for example call recording and call reporting. There is also a range of add-on modules available designed to further enhance your VoIP communications experience.
Hardware Features
FreePBX Distro Pre-loaded
300 Users/120 Simultaneous Calls
Intel Atom C2000 Octal Core
Dual 120GB SSD (Raid 1)
4GB Ram
5 Onboard GB Network Ports
2 PCI Express Slots
1U Form Factor Case (Ear brackets included)
Console Web GUI SSH
Dimensions: 430mm (W) x 305mm (D) x 45mm (H) (W x H x D)
View Sangoma's FreePBX brochure for a full list of telephony features
Support & Downloads
Technical details
What's in the box
Warranty
This product comes with a 12 month manufacturer's warranty.
Support
Free online support is available from the official FreePBX IRC channel or the community supported forums.
Or for direct support, ad-hoc support tickets and assistance is available from Sangoma's experts and can be purchase from the FreePBX website.
Media downloads

Sangoma FreePBX 300
High Resolution
|
Web