Sangoma NetBorder Lync Express
Overview
The ONLY all-in-one Lync server appliance with a built-in VoIP gateway.
Lync is specifically designed by Microsoft to be easily integrated within an existing Microsoft environment. Until now, connecting Lync to an existing TDM infrastructure has not been given that same design consideration. A Microsoft engineer would need to integrate Lync with a third party media gateway to connect Lync to the outside world.
Sangoma's Lync Express combines a fully-featured Lync Server with its Lync certified award-winning VoIP gateway, NetBorderTM Express to create the ONLY all-in-one Lync server appliance on the market. All in a simple and elegant appliance.
Lync Express is the all-in-one quick and easy solution to get you up and running in the post PBX era that is Microsoft Lync Unified Communications.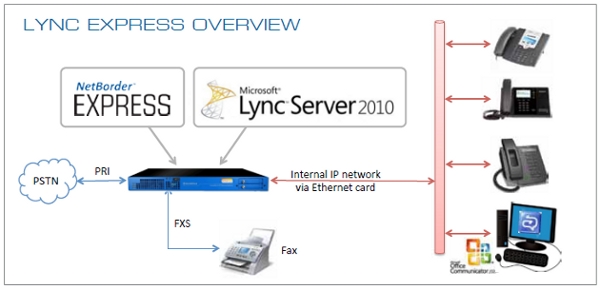 Features
All-in-one turnkey solution in a simple and elegant appliance
Enable Microsoft® LyncTM for an SME of up to 100 employees
PSTN connectivity assured by Lync certified NetBorderTM Express VoIP Gateway
Connect legacy telephony devices to Lync UC services
Integrate with Office 365 services with Lync on-premise
Microsoft® LyncTM 2010 is a Unified Communications platform that enables:

Presence and instant messaging
Audio, video conferencing and collaboration
Telephony
Deep integration with other Microsoft products
The Lync Express appliance offers a full Microsoft Lync solution with PSTN connectivity built-in. All the software is pre-installed; all that is needed to do is configure Microsoft Lync. For deployments where there is no domain controller present in the customer's Windows network, an optional virtual machine with the domain controller role is available on the appliance.
PSTN Connectivity:
1 T1/E1/J1 span to assure ISDN PRI connectivity to the PSTN
4 FXS lines for legacy telephony devices (faxes and phones)
Ordering Information
Lync-NBE-AP01
Lync Express Box with Single port PRI Card
Lync-NBE-AP02
Lync Express Box with 2 port PRI Card
Lync-NBE-APAN
Lync Express Box with 6 FXO + 2 FXS Card
LYNC-NBE-APBR
Lync Express Box with 4 port BRI and 2 port FXS Card
Accessories
Support & Downloads
Technical details
Technical details
What's in the box
Warranty
This product comes with a 1 year manufacturer's warranty
Media downloads

Sangoma NetBorder Lync Express
High Resolution
|
Web
|
Thumb