Sangoma PBXact UC Manchester Roadshow
Sangoma PBXact UC Manchester Roadshow
Tuesday 13th December 2016
Central Library - Manchester
Following the success of our London Roadshow, we have decided to bring the event to the North! We invite you to join us on Tuesday 13th December for Sangoma's PBXact UC Roadshow in Manchester. Spend the afternoon with ProVu and Sangoma and discover the opportunities and benefits of Sangoma's new communication solutions; PBXact UC and their range of IP phones.
The event will be held at Manchester's Central Library. Located right in the heart of the city, this historic venue is just a 15 minute walk from both Manchester Piccadilly and Victoria railway stations.
Ideal for System Integrators, Resellers and Value Added Resellers, this event is a great opportunity for you to learn more about PBXact UC, the new phone range and Sangoma's reseller programs, plus get hands on with their newest launched hardware.
This event is free to attend and will conclude with time for networking where you will have chance to chat to the Sangoma and ProVu teams, plus finish up with a complimentary cold beer or two.

As well as receiving a FREE Sangoma s500 phone, event attendees will receive an exclusive 20% discount off Sangoma's upcoming PBXact UC Training Courses, due to take place in London, January 2017. For more information, please contact the ProVu Team.
Speakers:
Simon Horton - Director, Product Management and Product Marketing, Sangoma Technologies
Darren Garland - Managing Director, ProVu Communications
Muhammad Bajwa - Senior Technical Sales Engineer, ProVu Communications
Agenda
2:00 PM - Registration with tea and coffee
2:15 PM - ProVu Introduction
2:20 PM - Sangoma Introduction
2:25 PM - PBXact UC and Phones
4:00 PM - Networking with drinks and your chance to get hands on
Central Library
St. Peters Square
Manchester
M2 5PD
United Kingdom
Room: Inner Circle Meeting Room 2
Tuesday 13th December 2016
14:00 to 17:00 (GMT)
To register for this event, please complete the form on the right.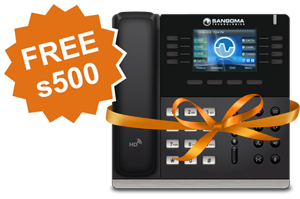 You'll receive a FREE Sangoma s500 Phone for attending! (1 phone per company).