Sangoma NetBorder SS7
Overview
The NetBorder SS7 VoIP gateway appliance is a cost-effective, turnkey solution offering 4 to 32 T1/E1 lines (Up to 256 T1/E1 lines can be achieved by stacking NetBorder SS7 gateways) at a single point code with powerful transcoding capabilities. This product is ideal for applications such as connecting a private branch exchange to the legacy telephone network or providing multiple points of presence to a VoIP network.
The Sangoma SS7 Media Gateway provides full call control routing for SS7 traffic without the need for third party media gateway controllers or protocol converters. Full inter-working is supported across all VoIP and TDM protocols simultaneously, allowing this single multi-protocol TDM to VOIP gateway to be deployed interconnecting differing networks.
The compact, all-in-one design reduces footprint and eliminates the need to source multiple network components to handle media, signalling and routing.
The GUI provides convenient access to most configuration, monitoring and management functions, while a command line interface provides full access to management functions with a minimum of bandwidth consumption.
Features
Connect calls between PSTN and VoIP networks
Integrated media gateway, signalling gateway and media gateway controller
Compatible with distributed architecture
Scalable, carrier-grade
Highly interoperable with other system types
Supports a wide range of codecs for VoIP, PSTN and wireless
Supports a wide range of SS7 and VoIP signalling protocols
Sophisticated call routing
Tecnical Specification
PSTN Protocols:
SS7-ISUP: ITU, ANSI, Bellcore, UK, China, India, SPIROU (France), Russian variants
Up to 16 A or F signalling links
Up to 16 Originating Point Codes
Up to 16 Destination Point Codes
Up to 16 Linksets
ISUP relay for larger configurations
PSTN Interfaces:
Up to 32 E1/T1 (960 ports) per server, available in these configurations:
» 4 E1/T1 in 1U appliance
» 8 E1/T1 in 1U appliance
» 16 E1/T1 in 2U appliance
» 32 E1/T1 in 2U appliance
Extend capacity over 960 ports and single server via ISUP relay feature
RJ-48 Connectors
VoIP Protocols:
SIP V2/RFC3261
SIGTRAN M2UA RFC 3331
SCTP RFC 2960
Megaco/H248
H.323
Codec Transcoding:
Any-to-any
No combination or loading restrictions
AMR
G.711
G.711.1
G.722
G.722.1
G.722.2 (AMR-WR)
G.723.1
G.726
G.729A
G.729AB
GSM-FR
GSM-EFR
iLBC
L8 (Linear 8K)
L16 (Linear 16K)
T.38 (fax)
Echo Cancellation:
G.168-2002 with 128ms tail
Jitter buffer
DTMF Detection and Generation:
RFC2833 Tone relay
In-band
DTMF detection and generation
Call Routing:
Flexible XML-based dial plan and routing rules
Any-to-any routing
Management and Configuration:
Web GUI
Command line interface
Call detail records in XML format
Detailed logs with user configurable file size and auto-rotation
SNMP
Radius
System backup/restore/copy
Troubleshooting:
Per-call tracing (history and/or live)
Signalling capture tools
Command line interface
GUI
Session Management and Billing:
SIP peer availability polling
RTP inactivity monitoring, RTCP
CDR generation (RADIUS and text file)
Network Interfaces:Video:
2 RJ-45 Ethernet ports
» 1 for VoIP
» 1 for management interface
1U Appliance
» 4 USB ports in the back
2U Appliance
» 4 USB ports
- 2 in the front
- 2 in the back
Video:
AC Power:
250W universal for 1U solution
350W universal for 2U solution
DC 400W -48V for 2U (Special Order)
Dimensions:
1U : 480.4(W) x 474(D) x 44(H) mm; 19"(W) x 18.7"(D) x 1.7"(H)
2U: 482(W) x 441.6(D) x 88.4(H) mm; 19"(W) x 17.4"(D) x 3.5"(H)
Ordering Information
Models
| SKU | Spans | Signalling Links | Box |
| --- | --- | --- | --- |
| SS7-NSG-AP04 | 4 | 4 | 1U |
| SS7-NSG-AP08 | 8 | 8 | 1U |
| SS7-NSG-AP16 | 16 | 16 | 2U |
| SS7-NSG-AP32 | 32 | 32 | 2U |
Usage Scenarios
Connect a VoIP network to the PSTN, providing connections between SIP phones and conventional and mobile phones.
---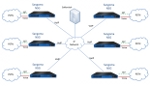 A carrier can provide a low-cost long distance alternative using NetBorder SS7 gateways.
---
Support & Downloads
Useful links and documents
Support:
Support is offered by Sangoma engineers. Whether you need technical support, software maintenance, training, consultation or installation services, Sangoma can help you. Contact your Sales representative at ProVu for more information.
Warranty:
1 year manufacturers Warranty