SIM fulfilment service - Shipping and Management
Our SIM fulfilment service is aimed at service providers and is designed to take away the hassle of stock holding, administration and fulfilment of your SIMs. We can personalise your SIM cards with your own branded packaging (leaving no affiliation with ProVu).
How it works: The ProVu SIM fulfilment process
Your customer places an order either through your website or your CRM system

We provide you with real time online stock status in XML so that your system and website can be kept up to date, this can be fully automated
When your end user places their order, the information is automatically passed to ProVu so we can process your order quickly and effectively

We send the cards out, professionally packaged
They can be sent either plain or with your company logo on them
Orders are processed and shipped same day (during normal working hours)
The card is sent out in an envelope so there is no delay due to waiting for signature
You will receive electronic callback of the SIM card serial number and customer details
How it could look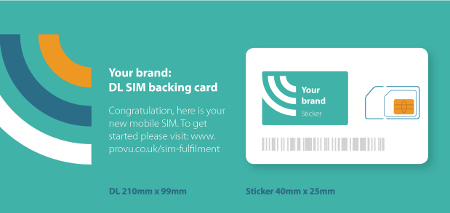 Personal and Professional
We can send the SIM cards out with your own personalised leaflets and brand stickers to your customers along with their SIMs, leaving no affiliation with ProVu. All you need to do is provide us with your printed marketing material.
Benefits for service providers
Saves time, Saves money, Minimises errors, Hassle free, Personal and Professional
We hold the SIMs
We insure the SIMs
Automated online ordering system minimises errors and reduces cost
Reduced administration with one weekly invoice
Free up valuable admin time and allow staff to concentrate on core business
Service is very cost effective
Sent out same day (with a choice of delivery options)
We offer a personalised service tailored to your needs
---

How to get started
In the first instance, lets discuss how we can help you simplify your fulfilment process. You can do this by:
Calling our sales team on: 01484 840048 or
Send an email to contact@provu.co.uk and someone will get back to you.