Snom M9r
Overview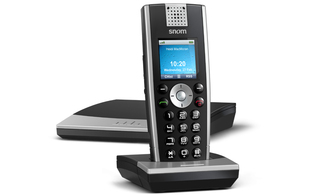 The Snom M9r is the next generation DECT handheld that empowers users with the convenience of wireless communication along with the widely accepted benefits and feature richness of Voice-over-IP telephony. The Snom M9r promises to deliver excellent speech quality.
Furthermore the Snom M9r naturally can be integrated into several SIP based IPPBXs. Supporting 4 concurrent calls and the ability to connect up to 9 handsets, the Snom M9r provides excellent value for money and is ideally suited for business and private usage.
By combining professional functions of versatile business communication with the intuitive features of the mobile-carrier world, the Snom M9r is ideally suited for professional and private use alike.
Features
Interference-free telephony
100+ hours standby time
High interoperability
Voice encryption
Security (TLS, SRTP, preinstalled X.509 certificate)
Colour Picture Caller-ID
IPv6 ready
Up to 9 handsets per base station
Up to 4 simultaneous VoIP calls per base station
Intercom, alarm and calendar function
Voice encryption
Headset connection via 2.5mm jack
View our headset guide for list of supported headsets
Supplied with a 3 Year Manufacturer's Warranty
Accessories
Snom M9r Additional Handset

Order code: Snom_M9RHS

MPN: 00003103

Availability: Discontinued

RRP £65.00+VAT
Support & Downloads
Technical details
Support Links
Warranty
As of 1st July 2018, this product is supplied with a 3 year warranty.
What's in the box
Media downloads

Snom M9r
High Resolution
|
Web
|
Thumb

Snom M9r (additional handset)
High Resolution
|
Web
|
Thumb