Snom PA1
Overview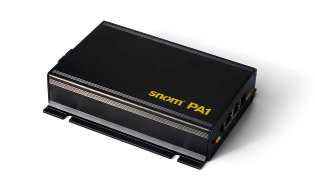 The Snom PA1 is a new audio device, which can be used as an extension of any public address system, allowing you to connect a loud speaker or PA amplifier up as an extension to a VoIP system. Ideal for broadcasting announcements or playing music, either through connecting to external speakers or a headphone connection. The Snom PA1 can be installed to walls and ceilings and uses the familiar Snom hardware and firmware - so you know it is of the highest quality. It can be powered by PoE or a 5v power supply.
The announcement is generated by making a call from a Snom telephone. The PA1 also has its own private number in the same way that all devices connected to a SIP system do.
Who Would Benefit?
Reception areas and office floors
Airports, train and bus stations
Waiting lounges
Workshops and factories
Churches
Doctors and dentists surgeries
Snom PA1 Main Uses
Public Address System: Connect a 4W speaker or an amplifier system to the PA1 audio output. Register the PA1 as an extension on your SIP system in the same way you would any other Snom phone. When you call the PA1 it auto-answers the call and passes either one way or two way audio (if a microphone is also connected).
Door Entry System: Using a special firmware version, the PA1 can be configured as a SIP door entry system. Connect a 'door bell' push button, external microphone, external speaker then register the PA1 as an extension to your SIP system in the same way as any other Snom phone. The PA1 will then place a call to your SIP system so that you can speak to whoever is at the door (even if you aren't in the building). The PA1 also has four DTMF controlled switched outputs which can be connected to an electronic door lock, outside light or perhaps to activate an IP camera recording.
The PA1 is not limited to these two uses, it can be used to "SIP enable" any device which has normal audio inputs and outputs. With suitable relays connected to switched outputs it could also form the basis of a home automation system controlled via your SIP phone system.
Features
Can be powered by a 5v power supply or via the network using PoE (IEEE 802.3af)
Ethernet: 2 x IEEE 802.3, 10/100 Mbps switch
SIP communication and Multicast
Central configuration and maintenance
Web interface menu
Remote volume configuration
4 Watt power amplifier, class D (loudspeaker not included)
Key for announcement of IP address and for resetting
2 LED status indicators
Two 3.5mm jack sockets for connecting a microphone and low power (e.g. headset) speaker
4 freely programmable output pins, configuration via web interface
Robust housing for wall-mount
2 Year Manufacturer's Warranty
Ordering Information
Snom PA1 Public Announcement System

Order code: Snom-PA1

MPN: 00002226

Availability:Please call

RRP £154.61+VAT

Are you a telecoms / IT reseller, ITSP or installer?

For access to discounted trade pricing, simply register and become a ProVu Reseller today.

Already have an account? log in for trade pricing
Accessories
Are you a telecoms / IT reseller, ITSP or installer?

For access to discounted trade pricing, simply register and become a ProVu Reseller today.

Already have an account? log in for trade pricing

Snom UK/EU 5v Power Supply

Order code: Snom-psu

MPN: 00004570

Availability:In stock

RRP £13.44+VAT
Support & Downloads
Technical details
Support Links
Warranty
This product comes with a 2 year manufacturer's warranty
What's in the box
PA1 unit
Quick start guide
Wall mount bracket with wall plugs
Connectors with wires x4
Media downloads

Snom PA1
High Resolution
|
Web
|
Thumb