snom UC600
Overview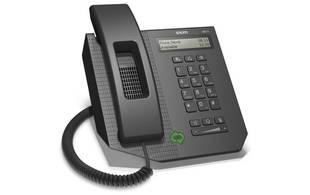 snom UC600 Optimised for Microsoft Lync
The snom UC600 is a traditional desk phone designed to make PC calls. It offers various functions that are essential for everyday working life. Not only does the snom UC600 connect traditional phone functionality and PC communications it also provides easy plug and play via an integrated USB cable. The snom UC600 is fully optimised for Microsoft® Lync and immediately adopts the registration information of the Microsoft® Lync Communicator.
The snom UC600 includes the entire range of user-friendly business features and functions and is equipped with a two-line backlit LCD display indicating your online status, incoming caller ID and time. Further sophisticated features, such as a status light displaying your presence status in order to effectively direct calls. Alongside a sophisticated presence status light for effectively directing calls, the snom UC600 also offers a series of convenient keys to control calls, such as redial, flash and delete keys, a speakerphone and headset keys, volume control and a microphone mute key.
Clear, high definition wideband audio provides premium audio telephony whilst eliminating background noise and echoes and delivering excellent voice quality. The speakerphone and headset offer a convenient hands-free opportunity for effectively carrying out your office work. By implementing the snom UC600, you will streamline your enterprise's communications and increase productivity.

The snom UC600 has been optimised for use with Microsoft LyncTM 2010 and Microsoft® Office Communications Server 2007 R2 client, The snom UC Edition firmware comes pre-installed as standard on the snom UC600.
Features
Two-line backlit LCD display
Redial key, flash key, delete key
Volume control
Microphone mute key
Headset key
Speakerphone key
Presence/status light
Optimised for Microsoft® LyncTM
Ordering Information
Are you a telecoms / IT reseller, ITSP or installer?

For access to discounted trade pricing, simply register and become a ProVu Reseller today.

Already have an account? log in for trade pricing
Accessories
Are you a telecoms / IT reseller, ITSP or installer?

For access to discounted trade pricing, simply register and become a ProVu Reseller today.

Already have an account? log in for trade pricing
Support & Downloads
Technical details
What's in the box
snom UC600 base
Handset
1.8m (6ft) handset curly cord
Captive USB cable
Quickstart Guide
Media downloads

snom UC600
High Resolution
|
Web
|
Thumb