snom 220
Overview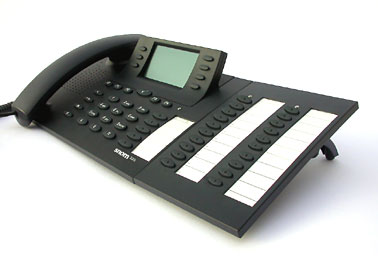 This product is no longer available. Take a look at the
Snom 320
Key features
Call Log - 100 incoming, outgoing and missed calls.
HTTP server for web administration and dialling
Echo Cancellation
Supports SIP or H.323 - just load new firmware
Traversal over NAT.
Built in Ethernet Switch.
Headset connectors
Call hold, divert and transfer, with consultation.
Graphical Display with 4 dynamic soft keys
5 programmable keys
The phone software can be upgraded remotely and central administration is available.
When linked with Snom 4S Servers and a Gateway, the Snom220 can provide the complete range of telephony services, including:

Call Hold and Transfer.
Voice Mail with message waiting indicator.
Music on Hold.
---
Key Advantages of SIP protocol
Call SIP addresses over the internet for free.
Open Standard - compatible with all other SIP devices.
More flexible than a traditional PABX - not limited to where you can run phone cable, but can still provide all the features you expect from a traditional PABX.
Completely scalable - the intelligence is in the phone so never full to capacity.
Calls are made to a Personal identifier. Logon to your identifier from any location.
No need for phone number just name, eg - tim@provu.co.uk
---
Further information