ProVu Snom Configuration Screen Branding
In addition to the standard Snom phone configuration services that ProVu currently make available to ITSPs and phone resellers, we are now able to offer a new customised Snom handset screen branding.
The branding service allows our customers to display their chosen custom logos on the screens of the Snom 360, Snom 370 and Snom 820 ranges of IP Phones, either for their own use or for their end users use.
---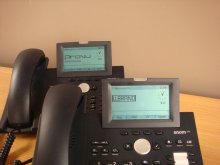 How It Works
The reseller provides ProVu with the logo/screen design in suitable format.
Snom 360 - Black and White
Snom 370 - Grey Scale
Snom 820 - Colour!
The logo should be kept simple for maximum effect.
ProVu then develop a series of customer logo configuration files, these are then used by ProVu to configure the phones at the same time as the standard configuration work is completed.
---
Applications
It is expected that most resellers will want to display their logos for marketing and PR purposes, plus key contact information as part of the Branding.
---
Other Points
Timing - allow a working 5 days for initial configuration from receipt of your logo.
Volume - A minimum configuration fee of £20 per configuration update applies.
---
ProVu Demonstration
ProVu will download a demonstration screen brand to all approved Snom account customers onto the resellers of Snom 360, Snom 370 or Snom 820. The Snom 370 or Snom 820 is preferred for anything other than basic logos as the screen resolution is higher.
Please contact ProVu for pricing and further details.