Thomson SpeedTouch 780WL
This product is now end of life, check out the
Technicolor TG582n
as an alternative product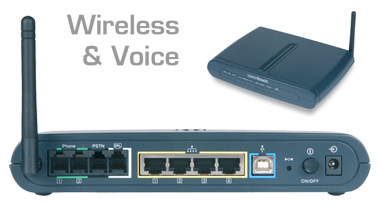 Key features
ADSL router
Upstream QOS
2 Telephone ports
ADSL router with 2 FXS ports and QOS
This is an ADSL router with two FXS ports that allow for normaltelephones to be connected to a VoIP service provider.
This unit is also able to offer upstream traffic priotisation - allowing your outbound audio to be unaffected by your internet usage.
The 780WL provides Ethernet and USB connectivity for connecting up to five computers directly, plus high speed 54Mbit/s wireless for connection without the hassle of wired connections.
SpeedTouch 780WL integrates Voice over IP technology for making and receiving telephone calls over the internet. Simply connect up a standard telephone handset or DECT base station and then setup to use Voice over IP.