Products >
ProTalk - IP Door Entry phones
ProTalk - IP Door Entry phones
Video Integration

Snom video integration
The ProTalk door entry systems seamlessly integrate with IP video phones and the video camera IP door entry models are ideal for working with snom 8XX series and the Yealink VP2009 video phone. The real time video is streamed to the colour screen of the video phones and can be viewed at any time.

There is no need for any 3rd party software or PBX support to view the video stream.

Web video integration
Alternatively images can be viewed at anytime on a standard PC screen or mobile phone via your web browser, by accessing the IP address of the door entry unit.
VoIP applications for smart phones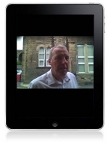 It is now possible to integrate the ProTalk IP Door entry system with iPhone iPad iPod, Blackberry, Android, Symbian and Windows Mobile devices using a video softphone such as Vippie.
Using this softphone you can now have a videophone call with whoever is calling at your door from where ever you are with a wifi Internet connection. You can then decide whether to allow the visitor access by simply dialling in an access code to operate the door release.
The ProTalk door entry devices support both H263 and H264 video codecs, please check that your SIP service provider or PBX supports at least one of these.
The Vippie softphone supports both video codecs, it is a 3rd party application, please visit their website for more information: voipswitch.com
Video Integration - products