ProVu Webinar: Introduction to the Algo IP PA and SIP Alerting Range
There are no upcoming dates for this webinar. A recording of the webinar can be seen below:

Algo Solutions are leading manufacturers of high quality IP/SIP visual and audible alerting devices. Having extended their product range with the addition of the 8301 Paging Adaptor and 8186 SIP Horn Speaker, we are inviting you to learn more about the Algo range in our upcoming webinar.
The webinar will be held on Wednesday 8th June at 11:00am (GMT + 1) when we will be joined by Tony Rowberry from Algo Solutions. Throughout the session, you will be given an overview of Algo's product range and their features, plus we will be discussing the benefits of using Algo over ATA devices.
Webinar Topics Include: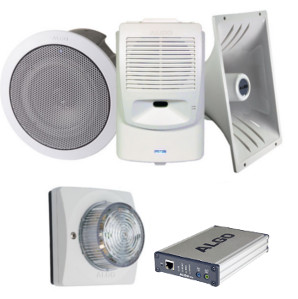 Introduction to the Algo 8301 and Algo 8186
Advantages of using Algo over ATA based PA systems
Multicast Paging with Algo
Usage Scenarios
Summary
Questions and Answers
The webinar is a great opportunity for you to learn about the Algo range and how easily it can be deployed within any IP infrastructure. We expect the webinar to last approximately 30 minutes.