2N® BRI Lite
Overview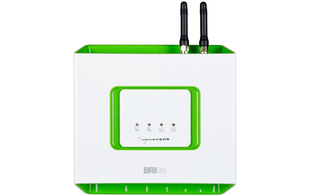 The 2N BRI Lite will help to simplify and cut the cost of calls especially for companies who make a high volume of calls to mobile networks. The 2N BRI Lite can be connected to any phone system (PBX) with an ISDN BRI (ISDN2e) interface. It can also be connected to a compatible BRI line such as a BT ISDN2e line.
The advance cost saving and value added features of a 2N® BRI Lite include counting free minutes on the inserted SIM card and sending/receiving SMS messages from a PC.
The 2N BRI Lite can easily be upgraded with a SIP licence to enable it to become a three way gateway: SIP-BRI, SIP-GSM and GSM-BRI.
Features
Slot for one SIM card
1x NT or 1x TE port
Significant reduction in cost of calls to mobile / GSM networks
Easy to use web interface for easy configuration
Callback service
Mobility Extension
Free minute counter
LCR Least call routing (Time profiles, free minute counter)
SMS send/receive via web interface
VoIP – SIP interface for connection to an alternative carrier (Licence required)
Connection to BRI ISDN, VoIP-SIP and GSM/UMTS networks
ISDN BRI line monitoring with SMS alert
Models
Are you a telecoms / IT reseller, ITSP or installer?

For access to discounted trade pricing, simply register and become a ProVu Reseller today.

Already have an account? log in for trade pricing
Accessories
Power supply for ISDN phones connected to 2N®BRI Gateways (recommended for 2N® BRI LITE and 2N® BRI Enterprise) (5020001)
2N® BRI gateways - Activation License for VoIP (for new BRI Gws) (50208940E)
2N® BRI gateway Email2SMS license 10 users (50208950E)
2N® BRI gateway SMPP license (50208960E)
2N® BRI gateway SNMP license (50208970E)
Support & Downloads
Useful links and documents
Warranty
This product comes with a 2 year manufacturer's warranty. An extra 1, 2 & 3 years extended warranty can be purchased.
Media downloads

2N® BRI Lite
High Resolution
|
Web
|
Thumb