2N® VoiceBlue Next
Overview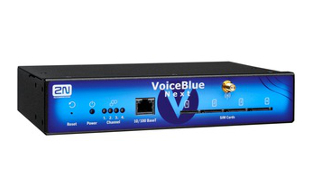 The VoiceBlue Next is a SIP GSM gateway that can help bring significant cost savings for companies that currently use VoIP technology. The VoiceBlue Next allow companies to make calls over GSM networks using sophisticated least call routing will route calls based on dial code, time of call or number of free minutes provided by the mobile network.
Features
Significant reduction of cost of calls
Easy set up via web interface
With 2 or 4 SIMs
Rack mountable 19"
PoE support
Callback service
Mobility Extension
Free minute counter
SMS send/receive via web interface
Compatible with wide range of SIP systems
Models
Are you a telecoms / IT reseller, ITSP or installer?

For access to discounted trade pricing, simply register and become a ProVu Reseller today.

Already have an account? log in for trade pricing
Accessories
2N VoiceBlue Next Rack Kit (5051099E)
2N Mobility Extension for 8 users (5050995E)
2N Mobility Extension for 16 users (5050996E)
2N Mobility Extension for 24 users (5050997E)
2N Mobility Extension for 32 users (5050998E)
2N VoiceBlue Next Email2SMS license for 10 users (5051091E)
2N VoiceBlue Next SMPP license (5051092E)
2N VoiceBlue Next SNMP license (5051093E)
Support & Downloads
Useful links and documents
Warranty
This product comes with a 2 year manufacturer's warranty. An extra 1, 2 & 3 years extended warranty can be purchased.
Media downloads

2N® VoiceBlue Next
High Resolution
|
Web
|
Thumb