Aastra 620d Handset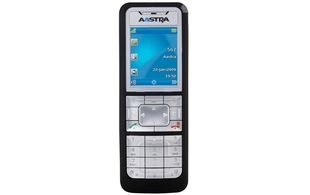 This Aastra 620d handset is part of the SIP-DECT solution
The large TFT colour display of the Aastra 620d provides clear graphic displays and ideal legibility even under difficult light conditions. Many freely programmable keys support the simple navigation and the use of different lines. Equipped with a Bluetooth interface for a cordless headset, Aastra 620d allows maximum freedom of movement.
The high-quality lithium-ion battery can be charged via the USB interface, independently of the charging bay.
Features
TFT-display (2", 176 x 160, 65536 colours)
Telephone book for 200 contacts*, with 7 possible entries*: office, private, fax and mobile number; email address* and ringing tone* assignment Ambient noise filter for loud environments
44 polyphone (Midi type) and 8 normal ring tones with automatic volume control can be assigned
Vibrate Mode
Up to 5 user profiles for e.g. Headset or meeting usage can be configured Hands free operation
Headset socket - 2.5 mm jack and Bluetooth®
Withstanding a fall on concrete from 1.7 m undamaged (according to DIN EN 60068-2-32)
Intelligent battery management
2 programmable navigation keys
3 colour multi-purpose LED which can be set for signalling numerous operation modes.
Up to 512 handsets can be deployed using up to 256 IP Base Stations / access points.