Jablocom Help Me! KIT
Please Note: These products are no longer supplied by ProVu.
The Jablocom Help Me! KIT! has now been discontinued
Overview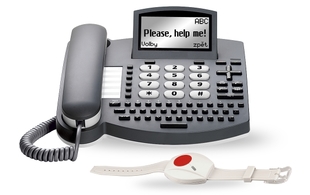 The Jablocom Help Me! KIT consists of a GSM desktop phone and a wearable Panic! button. This is a very useful kit for the healthcare sector and for independent yet vulnerable relatives and friends who may need to reach out quickly for emergency help or assistance. The wireless Panic! button comes with a hypoallergenic wristband so can be worn like a watch or on a lanyard so can worn around the neck. This means the button is always easily accessible in case of an emergency situation.
If a button is triggered it will send a message to the GSM desktop phone to make calls or send text messages to up to 5 contacts. This solution is scalable for more users as additional buttons can be added and because the devices are named in the phone you will know who is in need of help when a device has been triggered. There are other compatible devices available including a fixed wall button, smoke and fire detector and a gas leak detector, which will also trigger a request for help.
Features
Phone features
Large illuminated graphical LCD adjustable display
Quality speaker phone
Quick dialling with 6 memory keys
Built-in QWERTY keyboard
Call transfer, conference call, hold and mute function
No need for lots of wires
Easy to install and move locations
2 years warranty
Wireless panic button features
Notify up to 5 contacts via text, call or both when the button is triggered
Waterproof
Hypoallergenic wristband can be worn like watches or on a lanyard around the neck
Add more wristbands, each is set up on the phone so you know who needs help
Up to 50m range in an open area
Ordering Information
Are you a telecoms / IT reseller, ITSP or installer?

For access to discounted trade pricing, simply register and become a ProVu Reseller today.

Already have an account? log in for trade pricing
Accessories
Are you a telecoms / IT reseller, ITSP or installer?

For access to discounted trade pricing, simply register and become a ProVu Reseller today.

Already have an account? log in for trade pricing
Wireless emergency button can be worn on wrist or neck (RC-87)
Wireless wall button (RC-88)
Wireless smoke and fire detector (JA-63S 80)
Wireless gas leak detector (JA-80G)
Doorbell button (RC-89)
Door/window opening detector (JA-81M)
Support & Downloads
Support Links
What's in the box
Phone
Handset and curly cord
User guide
Computer cable
JabloTool CD-Rom
AC adaptor with UK/EU/USA clips
Wireless panic button
Lanyard
Warranty
This product comes with a 2 year manufacturer's warranty
Media downloads

Jablocom Help Me! KIT
High Resolution
|
Web
|
Thumb