Jablocom JabloPhone
Please Note: This product is no longer supplied by ProVu.
Overview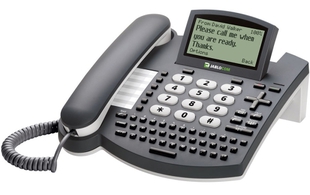 JabloPhone is a sophisticated GSM Desktop Phone which is actually a mobile phone operating on a GSM network in the shape of a desktop phone. It has a large adjustable display with a full QWERTY keyboard, speakerphone and quick dialling keys for the most frequent contacts.
JabloPhone also supports the advanced office functions such as call transfer, conference call, hold and mute functions. Thanks to PC connectivity and JabloTool, you can use the Phone connected to a PC as your virtual PBX solution. JabloPhone is suitable for both the consumer and business market.
Success Stories
Features
Quality speakerphone
Quick dialling with 6 memory keys
Large illuminated graphical LCD adjustable display
Built-in QWERTY keyboard
Call transfer, conference call, hold and mute function
No need for lots of wires
Wireless mobile technology makes the JabloPhone ideal for shops, hotel receptions or showrooms
2 years warranty as standard
Ordering Information
Are you a telecoms / IT reseller, ITSP or installer?

For access to discounted trade pricing, simply register and become a ProVu Reseller today.

Already have an account? log in for trade pricing
Accessories
Are you a telecoms / IT reseller, ITSP or installer?

For access to discounted trade pricing, simply register and become a ProVu Reseller today.

Already have an account? log in for trade pricing
Support & Downloads
Support Links
What's in the box
Warranty
This product comes with a 2 year manufacturer's warranty
Media downloads

Jablocom JabloPhone
High Resolution
|
Web
|
Thumb