Cityline door entry systems
Cityline door entry systems
The ProTalk range is no longer available to buy from ProVu. Check out the other products in our range of
IP Intercoms
The ProTalk IP Door Entry systems are designed for outside use and connect with most SIP based IP PBXs and hosted telephony services. - view full list of compatible PBXs and Hosted VoIP platforms.
The unit has a stylish finish that will fit into any environment with the option of flush or surface mounting. The unit is easy installation for outdoor or indoor use. When a visitor presses a button you can identify them by speaking and seeing them via an IP phone like a snom 821 or via the free pop-up software that will display the video image on a PC monitor. Find out more information on video integration.
Cityline IP (SIP) door entry system contains:
With or without IP camera
Microphone
Audio speaker
Two buttons
There is also a choice of Flush mount or Surface mount installation boxes.
The Cityline also has the ability to program a combination lock using the two buttons, allowing authorised personnel to gain access by entering the specified code via the two buttons.
Features
Weather resistance, this mean the unit will not show the signs of ageing over time.
Includes built-in powerful high performance amplifier
Volume control to adjust the conversation level.
Amplifier emits a safety message warning the visitor that the door is open. ("The door is open. Please close the door behind you")
Includes a highly sensitive CCD Camera with 3.7mm lens.
Camera has an adjustable view angle can be changed + - 10 degrees vertically
Additional night vision lighting with 6 LEDS
Push buttons include a card slot to insert a label with the extension details for example flat number, business name or logos.
The push buttons are permanently lit for use in the dark.
Opening time is adjustable from the keypad.
WEB based programming
iOS (iPhone, iPad) install iDinsk Lite softphone application on your iPhone / iPad to receive videocalls from the IP video door entry intercom
PoE or 12V power supply.
Supports Power over Ethernet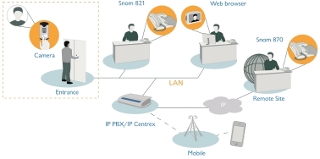 Usage Scenarios
Residential areas
Single family houses
Offices and businesses
Industry and companies
Product PDF
Useful Links