ProTalk SkyLine - Modules
The ProTalk range is no longer available to buy from ProVu. Check out the other products in our range of
IP Intercoms
1. Choose whether you would like video or audio

ProTalk Audio Module
(No longer available)
Self-regulating 2W amplifier. Built-in voice synthesis. Aluminium front and inner stainless steel grill.

ProTalk Video Module
(No longer available)
Integrates audio (voice) and video (image) functions in a compact module. CCD high sensitivity colour camera. PAN&TILT lens. LED lighting for night vision.
---
2. Then add your components
Push buttons
We have a choice of either single or double press buttons, including card slots to insert labels with the extension details for example flat number or business name. The push button are waterproof (sealed contacts) and permanently lit for use in the dark.
Single push buttons ideal for office scenarios as there is enough space provided to include business names and logos.
The double push buttons maybe more suitable for extensions that are simply a house house or flat number as you don't need the excess space and therefore can be more compact.

ProTalk Digital Keypad
Back-lit metallic keypad to make calls by entering the door code or can let you open the door directly by entering a code.
Card holders
Multi-purpose card holders for example to show company logos, display building information or to list extensions. Card holders permanently lit by low consumption LEDs.
---
3. Add a frame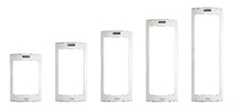 Frames
We stock 5 different sized frames depending on how many components your door entry system is made up of. You are not limited to one frame, you can have as many frames that are needed for your ideal solution. These can be positioned side by side or top to bottom.
High sensitivity microphone built into profile. With waterproof seals are included to avoid water access through the wall.
---
4. Add an optional case or hood
We have optional casing to complete your perfect door entry solution:

Flush box
This provides a neat, flush to the wall finish, when units are be placed inside a wall.

Surface box
Solid casing for units to be mounted to the outside wall

Protective hood
A neat protective hood for further weather protection and security