The ProTalk range is no longer available to buy from ProVu. Check out the other products in our range of
IP Intercoms
Overview
ProTalk IP Door Entry systems are designed for outside use and connect with most SIP based IP PBXs and hosted telephony services.
Mix and match components to build your own bespoke door entry system, that meets your needs. It makes no difference if the requirements are simple or sophisticated, SKYLINE has all the answers. This door entry solution is expandable so if your needs change or grow you are able to add new modules with out having to invest in a completely new system.
With a smart and stylish finish this system will fit into any environment, ideal for use indoors and out.
If you want to identify who is at your door before you answer the phone or before letting them in, then the door phone can use a video module with a IP camera, the video can be viewed on the screen of a compatible video IP phone or PC monitor
Highest Quality
Using Fermax high quality casing all the details are taken care of. The manufacturing materials - anodised aluminium, chromed zamak and polycarbonate, are selected for their beauty and maximum weather resistance. The push button and keypad contacts are water tight with waterproof contacts. The push buttons have been tested in laboratory trials to be able to resist 100,000 pressings in 48 hours with total reliability. The final result is compact and robust equipment (IPK437).
---
Features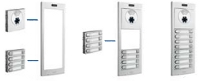 Thousands of different possibilities.
The clip-on assembly system of the modules is amazingly simple to fit together.
2W high power amplifier.
Amplifier emits a safety message warning the visitor that the door is open.
In poor light conditions, the colour camera lights up for better viewing.
Microsoft Lifecam VX-700 colour webcam.
Camera has an adjustable view angle can be changed + - 10 degrees vertically
The push button cardholders and digital key pad are permanently lit for use in the dark.
From the audio and video module it is possible to: adjust the volume, run the operating test, program monitors, select the safety alert language or indicate the door opening timings.
Smart connection between modules.
No call extension module needed.
Advanced monitor programming system (mapping).
Operation test connector.
WEB based programming
Softphone application avaliable for iPhone / iPad to receive videocalls from the IP video door entry intercom
PoE or 12V power supply.
Supports Power over Ethernet
Usage Scenarios
Residential areas
Single family houses
Offices and businesses
Industry and companies
---
Modules
Building you ideal door entry system. SKYLINE consists of 9 different modules, 5 different sized frames, along with 3 different types mounting accessories. The modules fit together perfectly to allow you to create your ideal solution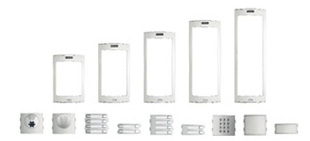 View more information about the avaliable modules
---
More Information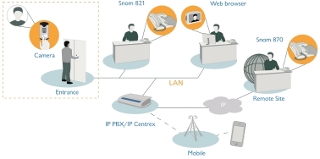 Product PDF
Useful Links