ProTalk SIP Anti-Vandal Intercom
ProTalk SIP Anti-Vandal Intercom
The ProTalk range is no longer available to buy from ProVu. Check out the other products in our range of
IP Intercoms
Overview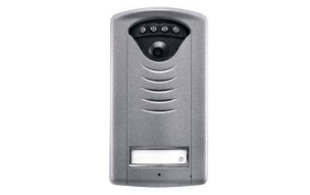 ProTalk IP Door Entry systems are designed for outside use and connect with most SIP based IP PBXs and hosted telephony services - view full list of compatible PBXs and Hosted VoIP platforms.
The ProTalk Door Entry system consists of a door phone unit designed to sit on the outside of your premises plus a series of optional additional parts to make a complete door entry solution.
These slimline units measure just 40mm in depth and comprise a SIP telephone, integrated speaker and microphone.
If you want to identify who is at your door before you answer the phone or before letting them in, then the door phone is available with a built-in IP camera supporting up to 640x480 video at 5fps. This video can be viewed in a web browser, a free stand alone PC application or on the screen of a compatible IP phone. Find out more about video integration
Features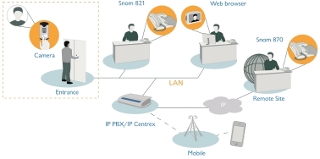 Door Entry Control Unit
Buttons dial an extension or group when pressed
Backlit buttons
The system can be set into day or night mode
Two internal SPDT relays for controlling a door opener or light etc.
Relays controlled individually by DTMF tones
SIP Protocol
Unit includes IP camera
Optional IP camera to view real time video on a computer or IP video phone
Talk to callers, look at callers, then open the door
Camera permanently operational, not just during calls
ProTalk Supporting Kits
A range of electronically controlled door opener devices to connect to the door phone
12v power supplies with battery back up option
Exit switches
Can be bundled as complete door entry kits
Supports Power over Ethernet
Usage scenarios
They can be deployed as:
Office door phone with on-site or hosted IP-PBX, full access control
Remote site entry over Internet
Apartment/flat intercom with door access control
Ordering Information
Are you a telecoms / IT reseller, ITSP or installer?

For access to discounted trade pricing, simply register and become a ProVu Reseller today.

Already have an account? log in for trade pricing
Compatible Phones
Are you a telecoms / IT reseller, ITSP or installer?

For access to discounted trade pricing, simply register and become a ProVu Reseller today.

Already have an account? log in for trade pricing
Support & Downloads
Product PDFs
Useful Information and Downloads
Media downloads

ProTalk SIP Anti-Vandal Intercom
High Resolution
|
Web
|
Thumb