Sangoma Vega 50
Overview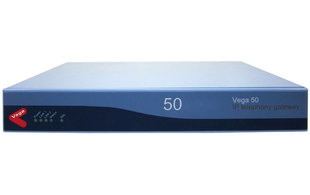 Analogue or BRI Media Gateway
The Vega 50 media gateway connects a range of legacy telephony equipment, including PBXs, ISDN telephones, the ISDN, analog phones & the PSTN to IP networks. The Vega 50 media gateway supports up to 10 analog ports, or 8 basic rate ISDN channels on 4 physical interfaces.
Features
2-10 Ports, analogue or BRI
Voice, FAX and Modem Support
Flexible Call Routing for Fallback and Least Cost Routing
Emergency PSTN Backup
Interoperability with a Wide Range of Legacy and IP Equipment
SIP and H.323 support
Interopable with the Broadsoft platform
If you use a BRI interface model,they can be independently configured as network side or terminal side. The Vega 50 media gateway can, therefore, be connected to both a PBX & the ISDN simultaneously. This configuration provides:
No disruption to the configuration of existing equipment
Flexibility & choice for call routing
ENP - Enhanced Network Proxy (Optional)
This option enables continuity of service during WAN/SIP outage and may be configured to operate in a number of ways including:
Standalone proxy
IP device survivability
IP device call routing
Emergency call routing
SIP to SIP call routing
Open, Non-Proprietary Interfaces
Vega 50 media gateways support ETSI BRI. Analogue Vega 50 media gateways support standard loop start signalling. Vega 50 media gateways have proven interoperability with a wide range of existing telecommunications and VoIP equipment. All VegaStream gateways can support SIP, H.323 & T.38 FAX. The gateways can be configured for different country requirements, such as tones and line impedance.
Lifeline PSTN Backup
Vega 50 media gateway variants equipped with FXS ports are also fitted with two FXO ports. When powered the Vega can route calls to or from these two FXO ports. Under power failure conditions the two FXO ports provide a hard-wired bypass to two FXS ports allowing PSTN calls to be made even under this failure condition.
Models
Are you a telecoms / IT reseller, ITSP or installer?

For access to discounted trade pricing, simply register and become a ProVu Reseller today.

Already have an account? log in for trade pricing
Support & Downloads
Technical details
Useful Links
Application Scenarios