Sangoma Vega 5000
The Vega 5000 Appliance Series has been discontinued, check out the
Vega 3000G
Overview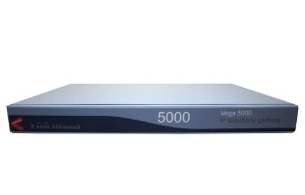 The Vega 5000 analogue media telephony gateway is designed to simplify the integration of legacy phone systems to IP infrastructure. The Vega 5000 connects analogue handsets & devices to an IP network, typically either an internet telephony service provider (ITSP) or a corporate network, while providing two additional network-facing analogue ports for connection to telephone lines or an analogue PBX.
Vega 5000 analogue media gateways are available with 16, 24, 32, or 50 FXS ports (for connection to standard analogue telephones) & 2 FXO ports (for connection to PSTN telephone lines or a PBX).
Features
16, 24, 32, or 50 FXS ports
2 FXO ports
Voice, fax, and modem support
Flexible call routing for fallback and least cost routing
Emergency PSTN backup
Interoperability with a wide range of legacy and IP equipment
SIP and H.323 support
Interopable with the Broadsoft platform
ENP - Enhanced Network Proxy (Optional)
This option enables continuity of service during WAN/SIP outage and may be configured to operate in a number of ways including:
Standalone proxy
IP device survivability
IP device call routing
Emergency call routing
SIP to SIP call routing
Open, Non-Proprietary Interfaces
All Vega gateways support SIP, H.323 and T.38 fax. The gateway can be configured for different country requirements, such as tones and line impedance. All Vega gateways have proven interoperability with a wide range of existing telecommunications & VoIP equipment.
Lifeline PSTN Backup
When powered the Vega can route calls to or from the two FXO ports. Under power failure conditions the two FXO ports provide a hard-wired bypass to two FXS ports allowing PSTN calls to be made even under this failure condition.
Density
With up to 50 FXS ports in a chassis that is only 1U high & half a rack deep, these gateways provide exceptional density.
Support & Downloads
Technical details
Application Scenarios
Warranty
This product comes with a 1 year manufacturer's warranty.
Media downloads

Sangoma Vega 5000
High Resolution
|
Web
|
Thumb