Snom Vision
Overview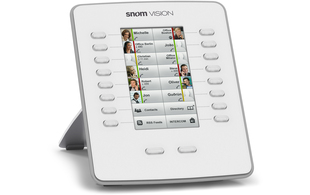 The snom Vision is the new expansion module for the snom 820/821 & snom 870. It expands the functionality and capability of the next generation of IP phones to a whole new level. You now have the ability to get more out of your favourite phone when used with this brand new product. The 16 programmable keys can be used for speed dial, call pickup, call activity detection; to name just a few of its capabilities.
As with the Snom 8xx series phones, the Snom Vision is available in both light grey and black. With it's touch screen capabilities and large colour screen, the Snom Vision will make an exciting addition to your desk.
The snom Vision can be powered by the conventional power supply (5V adapter included in delivery). Alternatively, the snom Vision can also be powered through Power over Ethernet (PoE IEEE 802.3af).
There is a built-in web server that allows you to configure its features through an elegant web interface. Moreover, the configuration and settings can also be provisioned automatically (for more information please ask when placing your order).
The design of this brand new product is in line with the outstanding features of the snom 8 Series and is what our discerning customers have come to expect. The snom Vision and the next-generation snom 8xx IP phone are indeed an exquisite match that combines functionality with grace.
Features
16 programmable keys
High resolution TFT touch screen color display
4.3 (10.9cm), 272 x 480 pixels, 24 bits color depth
Ethernet 10/100 Mbps
USB: 2x type A, Hi/Full/Low Speed host interface
USB: 1x type B
Built in Web server
Ordering Information
Are you a telecoms / IT reseller, ITSP or installer?

For access to discounted trade pricing, simply register and become a ProVu Reseller today.

Already have an account? log in for trade pricing
Compatible Phones
Firmware: The snom phone must be on firmware 8.7.5.13 or above for the Vision to be compatible
Are you a telecoms / IT reseller, ITSP or installer?

For access to discounted trade pricing, simply register and become a ProVu Reseller today.

Already have an account? log in for trade pricing
Support & Downloads
Technical details
Support Links
What's in the box
Warranty
This product comes with a 2 year manufacturer's warranty as standard. An extra 1, 2 & 3 years warranty can be purchased at the point of sale
Media downloads

Snom Vision (light grey)
High Resolution
|
Web
|
Thumb

Snom Vision (black)
High Resolution
|
Web
|
Thumb