Technicolor TG589vac v2
Overview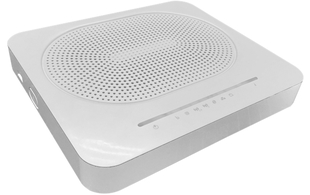 The Technicolor TG589vac v2 is a smart dual-band concurrent Wi‐Fi ultra broadband router which features next-generation IEEE 802.11ac wireless standard for the 5 GHz band. With its optimised antenna configuration, this enhanced wireless solution enables even higher throughput and better coverage over the much less crowded 5 GHz radio, for real-time content delivery. Simultaneously, it guarantees uninterrupted transmission of data services over IEEE 802.11n using the 2.4 GHz band.
The Technicolor TG589vac v2 supports ADSL2+, VDSL and Ethernet-WAN. With its dedicated Gigabit Ethernet WAN port and AutoWAN sensing the TG589vac v2 is an ideal gateway for deployment in Fibre-to-the-Cabinet (FTTC) scenarios. With IPv6 support the Technicolor TG589vac v2 is future-proofed in the approach to the IPv4 address pool depletion.
The TG589vac is easy to use through simple 'plug and play' and easy to install with the Technicolor Gateway Setup wizard, making the setup of a wireless home network as effortless as clicking a button.

Did you know we can ship this item direct to your customer ready to work automatically out-of-the-box? Using our TR-069 provisioning platform, we can pre-provision generic and customer specific settings to your routers prior to despatch. View more information about our
router provisioning
service.
Features
Integrated VDSL2 modem
Supports ADSL2+, VDSL and Ethernet-WAN
4 Gigabit Ethernet LAN Ports
1 Gigabit Ethernet WAN Ports
Built in Modem
Dual-band concurrent Wi-Fi interfaces:

IEEE 802.11n 2.4 GHz (2x2)
IEEE 802.11ac 5 GHz (3x3)

1 USB 2.0 master port
3G/4G back up using a USB dongle
LED Status lights
Easy setup with Plug and Play
IPv4 & IPv6 enabled
TR-069 CPE WAN Management Protocol
BT Wholesale approved
Ordering Information
Please note the Technicolor routers do not ship with a filter. These are available to buy separately.
Technicolor TG589vac v2 ADSL/VDSL router

Order code: TG589VAC_V2

MPN: TG589VAC_V2

Availability: In stock

RRP £69.50+VAT
Accessories
Order code: vfilter

MPN: Z-400UK

Availability: In stock

RRP £5.00+VAT
Support & Downloads
Technical details
What's in the box
TG580VAC_V2 router
Power supply with UK clip
ISDN cable
RJ45 cable
(Filter not included)
Warranty
This product comes with a 1 year manufacturer's warranty.
Replacement to the TG589vac
The Technicolor TG589vac v2 replaces the Technicolor TG589vac.
What's new:
New slimmer design allows for packaging to fit through a standard letter box. The TG589vac v2 only has one USB port whereas its predecessor had two.
Media downloads

Technicolor TG589vac v2
High Resolution
|
Web
|
Thumb