ProSys Provisioning
Automatic Provisioning enables you to ship hardware directly to your customers and work automatically out-of-the box upon connection. This saves you from unnecessary set up costs by eliminating the need for manual set up and therefore reducing customer support time. With next day delivery as standard, your customers can enjoy the best, hassle-free experience in getting up and running with their new service.
Within ProSys Ordering, user-specific config details such as extension numbers and usernames can be entered for each device. We then print and stick a label on to the items box making installation a simple case of issuing each device to the assigned person and for them to connect it up. Or, if you would like your hardware to be redirected to someone else's provisioning platform we can point them to the correct platform.
Phone Provisioning
Router Provisioning
How it works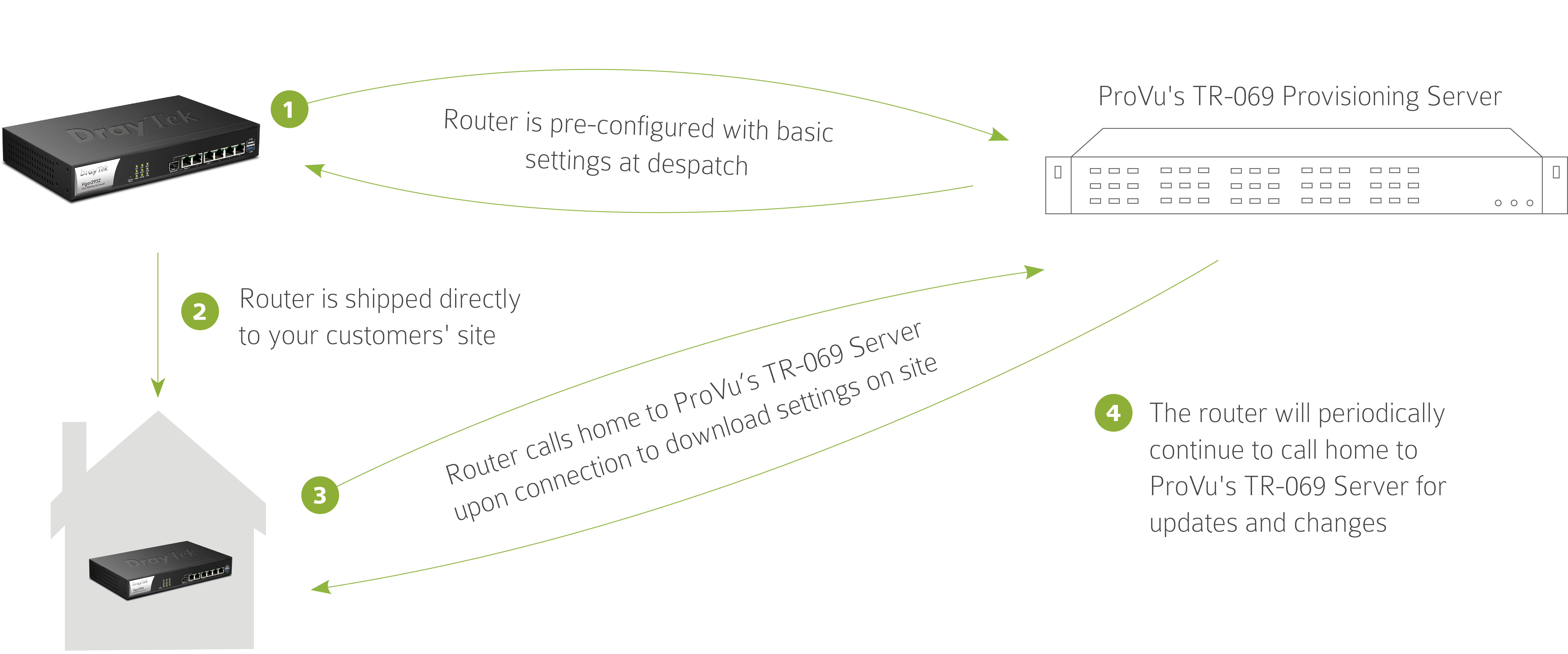 ---
Products that can be provisioned using ProSys Router Provisioning
Our provisioning server is not limited to a specific brand or platform - we can provision any DrayTek or Technicolor router to work with any Service Provider.


---
How to get started
We will work with you to create your personalised provisioning template with your choice of default settings. For example this might include firmware version, username, time zone settings or disabling SIP-ALG. Once this is set up all ordered routers will then automatically provision upon being plugged in at your customer's site.
To get started with Router Provisioning, simply call us on 01484 840048.
Benefits of using ProSys Provisioning
We ship direct to your customer's site saving time and reducing shipping costs
No need for an engineer to manually set up hardware
Details are applied automatically; reduced risk of inputting errors
Your preferred settings will be remembered for each device and will be automatically applied
Phone details can be changed remotely through ProSys Management tool
Hardware arrives with your customer brand new, in an unopened box*
Configured devices are clearly labelled for ease of identification
* When provisioning certain Cisco phones and Routers, ProVu may need to take the items out of the box and plug them in, devices are still shipped in pristine condition.
---
Get in touch
If you would like to discuss how we can help you simplify your CPE fulfilment please call us on 01484 840048.
---
Award Winning