EPOS | Sennheiser D 10 Series
Overview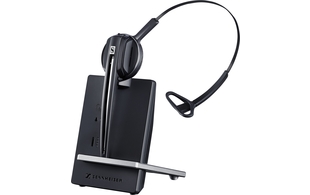 EPOS | Sennheiser's D 10 series of monaural DECT wireless headsets have been designed to provide an exceptional user experience. Compatible with either a deskphone or softphone/PC, the D 10 series are easy to connect and use.
Thanks to EPOS' voice clarity, ActiveGard technology and noise-cancelling microphone, the D 10 headsets offer an uncompromised audio performance. Featuring a long distance wireless range of up to 55m/180ft in a typical office environment, the D 10 series offers the ideal solution for users who like to have the flexibility to move around whilst taking calls.
For added functionality, the D 10 series can also be used in conference calls and for hot-desking with the ability to add up to 4 headsets to one base station.
Supplied with a 2 year warranty as standard, EPOS operate a no quibble guarantee and aim to rectify any issues within 24 hours, giving you added peace of mind.
Features
Wireless DECT connectivity:

up to 180m (590ft) with line of sight
55m (180ft) in typical office environment

Single connectivity - connects to either desk phone or softphone/PC (dependant on variant)
Choice of 3 wearing styles:

Headband with leatherette ear pad(s)
Ear hook
Neck-band (requires NB 20 and HSA 20)

EPOS Voice Clarity for wideband audio
Noise-cancelling microphone
Digital Signal Processing (DSP) for echo cancellation and audio equalisation
Call management (answer/end*, volume, mute)
Secure base station with solid metal plate for stability
Built-in cable management keeps your desk tidy
Magnetic charge interface for secure placement when charging
Easy hot desking and conference (up to 4 headset) solution
ActiveGard® technology for hearing protection against acoustic shock
3CX Certified variants available
DECT protected frequency band without interference with WiFi networks
Efficient encryption for secure conversations
Status indicators show available talk time
Energy saving DECT technology delivers full workday of talk time

8 hours (wideband)
12 hours (narrowband)

Fast charging delivers 50% in just 20 minutes
Two years manufacturers warranty
* requires EHS cable or handset lifter for call answer/end capabilities with desk phones - check out our Headset Compatibility guide
View the D 10 PHONE Data Sheet or D 10 USB Data Sheet for full list of technical specifications
Ordering Information
EPOS | Sennheiser D 10 PHONE Headset

Order code: D10-PHONE

MPN: 1000571

Availability:In stock

RRP £199.00+VAT

Are you a telecoms / IT reseller, ITSP or installer?

For access to discounted trade pricing, simply register and become a ProVu Reseller today.

Already have an account? log in for trade pricing
Accessories
EPOS | Sennheiser CEHS PO 01 Polycom EHS Adaptor

Order code: CEHS-PO01

MPN: 1000750

Availability:Please call

RRP £51.58+VAT

EPOS | Sennheiser CEHS DHSG Adaptor Cable

Order code: CEHS-DHSG

MPN: 1000751

Availability:Order on demand

RRP £11.00+VAT

Are you a telecoms / IT reseller, ITSP or installer?

For access to discounted trade pricing, simply register and become a ProVu Reseller today.

Already have an account? log in for trade pricing
Support & Downloads
Technical details
What's in the box
Headset
Base station
Headband (detachable)
1 bendable ear hook (mounted on headset)
Printed quick guide
Printed safety guide
Power supply (with PHONE variant)
Audio phone cable (with PHONE variant)
USB cable (with USB variant)
Warranty
This product comes with a 2 year manufacturer's warranty
Media downloads

EPOS | Sennheiser D 10 Series
High Resolution
|
Web