February 2012 Newsletter
In this months newsletter, you will find information on all the latest ProVu product and service releases, as well as upcoming technical training courses.
This months features:
Sangoma sign up ProVu for distribution

ProVu are delighted to announce that we have reached agreement with Sangoma Technologies Corporation, to distribute their renowned Vega series of gateway appliances.
Read all about it in Comms Business: "Sangoma signs up ProVu for distribution"
Find out more information on the Sangoma Vega Appliance Series
---
New snom 720 is now in stock
The long awaited snom 720 is now in stock.
The snom 720 is ideal for office users that require excellent audio and a large number of BLF or programmable keys (18). It combines state-of-the-art hardware with the proven snom SIP software.
All in all, the snom 720 raises the bar for VoIP phones in its class both in terms of voice quality, available features and day-to-day usability. More Information about snom 720.
---
ProVu welcome Baudisch SIP door entry systems

ProVu have reached agreement with Baudisch of Germany to distribute their range of SIP door entry systems.
The Baudisch range compliments and expands the range of IP door entry systems we currently distribute, particularly for the higher end specification products required for larger commercial and residential buildings. The units are smart, professional looking and built to last.
There are two ranges available:
The SIP DoorStation is an all-in-one integrated panel featuring a built in easy to navigate 100 user address book.
The Modular System consists of a robust range of modules enabling installers to build a solution specifically designed around a customers requirements.
The whole range is fully SIP compliant and has been through extensive testing with ProVu's technical team who have run interop tests with a wide range of SIP PBX systems and many leading Hosted Telephony providers.
---
January's Gigaset technical handset training course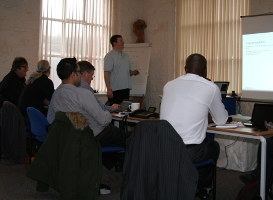 A huge thank-you to all of our resellers that attended last months Gigaset technical handset training course. This proved to be a huge success.
Paul Hayes, Product Development Director of ProVu said:
"I was delighted with all the positive feedback we obtained from the attendees. The technical training days are a brilliant way to teach our resellers how handsets and provisioning works by demonstrating and giving plenty of hands on experience".
Watch this space for details about the next Gigaset training event.
---
Last few places remaining on London Yealink Training course

The Last few places are remaining on the Yealink Certified Engineer Training course, taking place on the 15th February 2012 at University College London.
The course is ideal for technical staff including installers and support personnel and will give them far greater depth of knowledge across the range of phones.
Completing the course will give you Yealink Certified Reseller status and we are also offering a half day Sales Training by Yealink at your premises completely FREE OF CHARGE.
The course costs £150 and each trainee will receive a free T32G colour screen phone.
To see the course agenda and/or reserve your place see the Yealink training booking page.
Book now to avoid disappointment.
---
Clearance Stock

Clearance and Ex-demo stock
ProVu have a number of clearance products available at very reduced prices. All products are in as new condition (unless otherwise stated) and available for next day delivery. View a list of clearance stock
To unsubscribe from the newsletter please click here
---