November 2009 Newsletter
Welcome to November's VoIP Updates at ProVu.
In this edition we have news of:
---
Remember Remember the 4th November, Siemens Gigaset HC450 - Back in Stock

We hope you tuned in to watch The Gadget Show's review of the Siemens Gigaset HC450 Door Entry System last month, which Paul was involved in the filming for. After this, we were inundated with orders and the product went flying off our shelves.
Siemens Gigaset HC450 Door Entry Systems will be back in stock at ProVu, as of the 4th November 2009.
Don't miss out - place an advanced order and reserve stock now.
---
The Gadget Show HC450 review was aired on Monday 21st September on Channel Five, revealing their favourite five home security gadgets, putting the HC450 on the top of the podium in the number one spot!
The review demonstrated all the great features of the Siemens Gigaset door entry system. They were particularly impressed with the HC450's ability to allow users to check who is at the door while they are away from home. Even calling it "genius".
For those of you who missed it - Check it out on Five's catch up website.
We also thought you might be interested in a little anecdote:
A courier company called at our chairman's house, where an HC450 is installed. When he answered the intercom from his mobile 200 miles away, he was able to arrange a new date for the parcel to be redelivered.
The driver was amazed: "Never seen anything like that before mate. Bloody brilliant device, makes our job much easier!"
Trade and volume pricing, along with stock status is available to view on our Online Price List
If you do not currently have a username and password to access this information, please contact us and we will be happy to supply you with one.
For ProSys customers, the product part code HC450-UK is now live enabling you to pre-order on line.
---
Sneak Peek - Snom M9, Next Generation DECT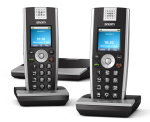 The Snom M9 VoIP DECT Phone is due to arrive at ProVu in November. Building upon the success of the Snom M3 DECT phone, the M9 provides the next generation of Snom DECT.
Unlike the Snom M3, the M9 incorportates the renowned Snom SIP stack, with proven reliability. The Snom M9 is also the only cordless phone in the market which offers possible integration with Microsoft OCS.
---
The M9 is perfect for the more demanding business user, with a complete set including two handsets and one base station. The M9 allows 9 handsets to register to one base and 4 concurrent VoIP calls.
Key Features
Display: 128 x 128 pixels, 65536 colors and backlit.
Battery life, 10 hours talk / 100 hours standby.
9 handsets possible at one gateway.
9 SIP registrations.
4 concurrent VoIP calls.
Microsoft OCS compatible.
IPv6 ready.
KlarVoice wideband audio.
Caller ID with name and image.
12 key numerical keypad; 5-key navikey; 2 softkeys; 2 hook keys; 2 Sidekeys.
Stock availability and pricing information will be available soon. If you would like to chat to anyone at ProVu about the Snom M9, please don't hesitate to give us a call or send an email to contact@provu.co.uk.
---
AVM 7270 Fritz!Box 3G Automatic Failover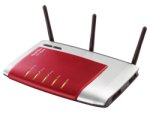 Those Boffins in Berlin are at it again, making further improvements to the already feature packed AVM 7270 Fritz!Box.
If your main internet connection is a little temperamental, the 7270 now boasts a great safety net:
Automatic failover to 3G Network!
This feature was already existent in the German model, which impressed a lot of visitors to our stand at UCE 2009. Now it's available in the 7270 UK version when you upgrade to the latest firmware.
Simply plug in a USB 3G stick into the USB port at the back of the device. Then should you ever experience a problem with your main internet supply, the device automatically fails over to use 3G instead.
You may also want to check out our AVM Fritz!Box 7270 Blog Post, linking to lots of recent reviews in UK publications. Everyone's raving about it!
---
Siemens Gigaset Pricing Updates

Trade pricing is now more favourable for the entire Gigaset range of IP DECT Base stations and additional handsets.
---
Many people are still unaware that the Siemens Gigaset handset and base stations are fully interoperable with each other. You can mix and match handsets with different base stations to suit a users needs or budget.
Register any combination of up to six handsets or five handsets and one HC450 Door Entry System with any Gigaset base. For example, the C475IP and S685IP base stations digital answering machine feature is still supported when you register an A58H.
Online Trade Pricing
Remember the ProVu Trade Price List is now published online. We no longer email out a PDF pricelist every month. This allows you to instantly access our latest prices and stock status.
Benefits:
Live pricing
Real time stock status
Eliminate any risk of misquoting on price or delivery times
Keep up to date with latest offers
Access requires a user name and password. Please reply to contact@provu.co.uk to apply for yours or for any other pricing information.
This information has always been available to our ProSys (e-ordering) customers, but now we have made it available to all Trade Customers.
Visit the Snom UK Community Site

♥ Snom? Check out the Snom UK Community Site, bringing you the latest dates for Snom Certfied Training and some great Snom tools.
---
We hope to further develop and improve this portal over the next few months and would appreciate any feedback or suggestions of useful features which you may like to see on there!
Have a look at:
Snom Screen Viewer - View the screen of a Snom phone which isn't physically in front of you.
Snom Idle Screen Generator - Load an image of your choice onto your Snom 8xx VoIP Phone.
Here's One We Made Earlier: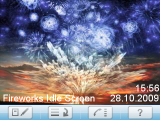 To give you an idea of what the Idle Screen Generator can do, we've prepared Bonfire Night (displayed here) and Halloween XML image files.
If you're lucky enough to have a Snom 8xx series phone, give it a try yourself.
---
Choose 'Identity 1' from the Setup menu on the left hand side of the configuration screen
Into the 'XML Idle Screen URL' field enter the relevant URL address for the image of your choice from the options at: http://www.provu.co.uk/media/Snom/XML/
Hit the 'Save' key
Snom Tip - Wit Woo :) Customise Your Snom Phones

So it's not enough that Snom VoIP phones are now available in both standard black and 'Snow Edition' white. We've had numerous requests for Snom phones in every colour of the spectrum!
For those of you who want to jazz up your Snom phones, you can customise it by designing your own 'Snom Skin'.
The German website Design Skins gives you the option to create your own skin for any of the Snom 3xx or 8xx series phones. Choose from different colours, images and patterns provided or even upload your own image!
They easily peel off too, without leaving any residue or causing any damage to the phone.
How to:
Visit http://designskins.com/
Click on the Custom Design tab at the top of the page
(You might want to set your language to English)
Select 'specials'
Select 'Snom'
Choose the model of Snom phone you want to customise
Let your creativity take over!
Have a look at the video below for some Snom 820 examples:
'DesignSkins are high quality and individually printed vinyl foils which are accurate to size and ready to use. DesignSkins by DeinDesign do have special air ducts on the adhesive side which make the skin easy to apply without any bubbles. The high-gloss and anti-abrasion-layer confirms a special protection from ugly scratches for your design and device.'
---
Siemens Gigaset Tip - IP DECT Transfer 'How To'

Call transfer on Siemens Gigaset handsets is a little trickier than on Snom Phones. Here's a 'How To' Guide to make life easier.
There are two types of transfer on a Gigaset IP DECT phone:
1. DECT Transfer - Transfer a call to another handset registered to the same base station.
2. SIP Transfer - Transfer a call to any other number using your VoIP service provider or PBX.
1. DECT/Internal Transfer How-To
During a call, press the "int" key on the handset. This is usually the left hand button on the four way key in the middle but it depends on the handset model.
The person you were talking to now hears some awful music on hold generated by the Gigaset phone itself!
You will see a list of the other DECT devices registered to the base station, select one of these and it will ring.
Announce the call and press the conf button just under the screen when ready to transfer.
You will actually be in the 3-way conference now but if you don't want this then just hang up and the other two parties will be talking to each other.
2. SIP/External Transfer How-To
An external transfer is made a lot easier if you change a setting in the web interface of the phone before hand. You only need to do this once by the way!
The setting is called "Transfer Call by On-Hook" and is found by clicking "settings" then "telephony" and "advanced" in the web interface. Change it to "yes"
After this the actual transfer process is fairly straight forward:
During a call, press the options button just under the screen and choose the ext call option.
Dial a number and make a call as normal.
When you are ready to transfer, simply press the hang up key on the Gigaset handset and the other two callers are connected.
---
Ex-Demonstration Stock
ProVu have a number of demonstration Snom, Siemens and Linksys products available at very reduced prices. All products are of high quality and available for next day delivery.
Please note that these items are subject to a reduced warranty period and no technical support is included with the purchase.
A full list and details of all the products available at a reduced price can be found at: ProVu Ex-Demonstration Stock
---
Missed a previous months newsletter? No worries, look at the ProVu Newsletter Archive.