January 2009 Newsletter
Welcome to the first Newsletter of 2009.
In this edition we have news of:
---
All In One Mini Phone System for Small Businesses - AVM Fritz!Box 7270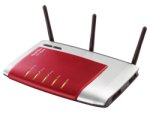 The new AVM 7270 is an all in one mini phone system for small or home offices.
Phone System, Wireless Router and DECT Base Station!
VoIP device for calling over the internet and web browsing. Connection for two analogue telephones, one analogue phone line, 6 cordless DECT handsets, plus printers and computers. Ideal for use as a small office or home office system.
The 7270 and Siemens DECT handsets are the perfect all in one solution. Please note there is no need to buy the Siemens base station. Any of the Gigaset slave handsets will register with the 7270's in built DECT unit.
Incorporating:
Telephone System for VoIP and Landline Calls including Answer Machine
10 SIP Accounts
WLAN Router with latest Hi-Speed Wifi 802.11N
ADSL2+ Hi-Speed Internet Modem
Integrated firewall for increased Internet security
Integrated DECT Base Station for up to 6 Cordless Handsets
USB Port for Network Printers and Data Storage
Uses SIP Trunks
Fail Over for Handsets Connected to VoIP Modem to Default to Normal Landline on Inbound and Outbound Calls
AVM 7270 Fritz!Box: Typical Office Set Up Diagram
All images and product information of the AVM Fritz!Box range are available to download for your website in a Media Pack
---
Let it Snow, Let it Snow, Let it Snom! Snom Snow Edition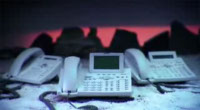 The Snom 3xx Series has had a makeover! Now the 'Snom Snow Edition' is now available to purchase, so you can own a Snom VoIP 3xx phone in white or standard black!
Certain to brighten up your desk! Providing quality, open standards and cost effectiveness, together with great functionality and now with a little bit more style and panache!
Already available in white is the Snom 820 Executive VoIP Business Phone. Feature packed with highlights including colour display, optional wireless LAN, XML mini browser and an integrated controller for wireless headsets.
If white phone's aren't your cup of tea, do not fear! Black phones are still available as standard, just as they always have been.
---
Key Benefits of 3CX Windows Software PBX

ProVu are now distributing 3CX, a Windows based software PBX solution catering for unlimited users.
The software is really easy to install and set up. 3CX is ideal for companies familiar with Windows based systems.
Benefits:
Fast and easy to install
Easy to support, configure and manage via web-based interface
Lower cost than a hardware based IP PBX
Compatible with the whole IP desk and DECT product range at ProVu
Both VoIP and PSTN calls can be made and received via compatible VoIP gateway
'Zero Touch' configurations for main VoIP providers
No separate wiring needed - phones use computer network
To help our resellers evaluate this excellent software we have a free version available for download. Just complete the registration form at the link below and you will receive a copy of the free version.
If you are interested in becoming a ProTalk partner we are making available a limited number of full "Not for Resale" 3CX licences on a first come first served basis.
---
ProVu Support - Snom Repair Service

The rate of failure for Snom VoIP Phones is exceedingly low. However, ProVu appreciate that sometimes goods can go faulty. Any fault which develops within 12 months of purchase is covered for repair under warranty.
As Snom phones are so reliable, their working life will exceed this 12 month warranty. In fact we have many Snom phones despatched from ProVu as early as 2000 which are still going strong!
ProVu offer a repair service for any Snom phone which may develop a fault outside of the warranty period.
If you have a Snom phone which is out of warranty and you wish repaired, contact@provu.co.uk with your fault report to find out if your phone will be repairable. We will attempt to remedy the problem and save you the cost of a brand new phone.
This service is not only cost effective in the current 'credit crunch' climate but also eco friendly! Reduce your carbon footprint with our low cost repair service.
---
Snom Pricing Update

Due to the dramatically weaker rate of Sterling against the Euro, ProVu having held prices for an extended period, unfortunately are now forced to revise the pricing structure on all products within the Snom range for 2009.
In our efforts to keep Snom pricing as low as possible we will be making adjustments to Snom pricing on a more regular basis as the pound hopefully recovers against the Euro. Please visit our online price list for further details.
Online Trade Pricing
Please remember the ProVu Trade Price List is now published online under secure access. We no longer email out PDF pricelists. This allows you to instantly access our latest accurate pricing and stock status of all products.
Benefits:
Live pricing
Real time stock status
Eliminate any risk of misquoting on price or delivery times
Keep up to date with latest offers
If you do not currently have a username and password for access, please reply to contact@provu.co.uk.
This information has always been available to our ProSys (e-ordering) customers, but now we have made it available to all Trade Customers.
---
***NEW*** ProVu Interactive Development Corner

Let us know how we can help you further!
This is your opportunity to voice your opinion and let us have your ideas and feedback on how we can help you. Each month we'll put forward a few of our brain waves, you can then shout out which is your favourite and would be most beneficial to you as a ProVu customer.
Voting now closed
---
Snom Tip - Branding of Snom Idle Screens

Snom 360, Snom 370 and Snom 820 phones support an XML format to change the idle screen of the phone.
You could use this function in order to add a corporate logo onto your phone.
By saving XML into a file on a web server, you can have a different idle screen for every identity on the phone.
Each identity has an XML idle screen URL setting. Just put a link in there!
eg: http://your.webserver/idle_screen.xml
Then reboot the phone.
Want Snom phone corporate branding? Click this link to find out how! - Includes examples!
Snom screen corporate branding is also offered by ProVu as a managed service to your company at a small charge. Please click this link for more information.
---
***NEW*** Siemens Tip - Copy Address Book to Each Handset

The address book on a Siemens Gigaset DECT Phone can be copied over via the handset to another slave phone registered with the base station, without having to browse to the web interface.
Try it out now!:
Go to the address book on your handset.
Select options on the soft key.
From the options menu select copy list.
From the generated list select which handset you wish to copy your address book to.
Remember all Siemens Gigaset DECT phones are compatible with one and other. Up to six of any combination of A58, C47 or S68 handsets can be registered with any one base.
---
Ex-Demonstration Stock
ProVu have a number of demonstration Snom, Siemens and Linksys products available at very reduced prices. All products are of high quality and available for next day delivery.
Please note that these items are subject to a reduced warranty period and no technical support is included with the purchase.
A full list and details of all the products available at a reduced price can be found at: ProVu Ex-Demonstration Stock