March 2012 Newsletter
The ProVu team are running lots of exciting Events and Technical Days during the next few months. Therefore this months newsletter is focused on the up and coming events.
This months features:
Come to our Open-Day and London Road-show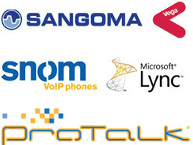 This month ProVu are running two FREE Events.
At the events we will be:
Launching the new Sangoma Vega Gateways
Presenting the latest in Microsoft Lync technology from snom
Demonstrating the ProTalk range of IP Door Entry systems
These events are a great opportunity to see, meet and discuss these new products with the ProVu team plus experts from Sangoma and Snom.

>> Open-day: Thursday 15th March 2012, 10:30 - 14:30 @ ProVu offices, Huddersfield (Map)
>> Road-show: Wednesday 21st March 2012, 10:30 - 14:30 @ IET, London (Map)

In addition, the London event is just a short walk from the ITSPA awards that will be getting under way just after 4pm. Entry to the Road-shows is free of charge and a buffet lunch will be provided.

PLUS: Each event attendee will be entered into a FREE prize draw, to win a snom one SoHo PBX and a Sangoma Vega 50.
This event has now past.
Gigaset and ProVu announce the launch of the new N720IP PRO DECT Multi-cell roaming system

ProVu and Gigaset are running multiple exciting events to celebrate the launch of the N720IP PRO DECT roaming Multi-cell system.
The Northern AM/PM sessions at Convergence Summit North 17th-18th April 2012
The London AM/PM sessions at the Institute of Engineering Technology – IET 25th April 2012
At the events we will be:
Launching the new Gigaset N720 DECT IP multi-cell system
Presenting the latest in Gigaset seamless in call handover and roaming
Demonstrating the Gigaset N720 Site Planning Kit
Showcasing the latest Gigaset Pro IP Phones
>> Gigaset N720IP Launch – North: ( Tuesday 17th – Wednesday 18th April 2012) AM/PM Sessions

Venue: Convergence Summit North: @ Central 1, Manchester Central Convention Complex
Address: Central 1, Manchester Central Convention Complex, Manchester, M2 3GX (Map)
Webpage: http://www.convergencesummit.co.uk

>> Gigaset N720IP Launch – South: (Wednesday 25th April 2012) AM/PM Sessions
The Gigaset Launch events are a fantastic opportunity to see, meet and discuss the new N720IP systems with experts from Gigaset UK and ProVu.
Entry to the launch events is free of charge, refreshments will be provided.
Contact us at contact@provu.co.uk or call us on 01484 840048 to register your interest
Upcoming training events

SARK Technical Training Day

We will be holding a further SARK PBX Accreditation course at the Spitfire offices in Vauxhall on Tuesday 27th March 2012.
This course is a must for any resellers wanting to supply, install and support SARK PBX/Asterisk phone systems and is aimed at installers and technical support personnel.
Once you have successfully completed the course you will receive:
PBX technical manual
SARK accreditation certificate and website badge
Sales leads for your area
White-label sales and marketing material
Technical documentation
Access to the ProTalk technical support team and SARK Forum
This is an open course to all our resellers and is charged at £200.00 per engineer.
Find out more information and to reserve your place on the SARK Technical Training Day

Next Yealink Certified Engineer Training days announced for Huddersfield and London

The next Yealink Cerified Engineer Training courses are scheduled for:
>> Huddersfield, ProVu Offices: Thursday 24th May 2012
>> London, UCL: Thursday 17th May 2012
The course is ideal for technical staff including installers and support personnel and will give them far greater depth of knowledge across the range of phones.
Completing the course will give you Yealink Certified Reseller status and we are also offering a half day Sales Training by Yealink at your premises completely FREE OF CHARGE.
The course costs £150 and each trainee will receive a free T32G colour screen phone.
To see the course agenda and/or reserve your place see the Yealink training booking page
Book now to avoid disappointment.

Upcoming Gigaset Pro Training days announced for Huddersfield and London

The next Pro handset training courses are scheduled for:
>> Huddersfield, ProVu offices: Thursday 10th May 2012
>> London, UCL: Thursday 12th April 2012
The technical course is suitable for individuals who already have a basic knowledge of Gigaset handsets or SIP in general, and wish to develop their knowledge further.
HANDSET TECHNICAL TRAINING covers handset usability, config and advanced config on the following:
DE desktop phone range
DX800A mini PBX
N300 & N510 Pro base stations
Cordless DECT handsets
The course costs £150.00 and you will receive a DX800A FREE of charge when you attend the session.
Once you have completed the course your company will be authorised to sell the Gigaset Pro handset range. You will also become part of the Gigaset Pro partner programme with access to a wide range of added benefits, resources and services from Gigaset, including:
Partner locator
Rewards and joint promotions
Newsletters with special promotions, news, and more
Direct contact with Gigaset & distribution Partner sales
Priority technical support
Sales tools
Technical support tools
and much more...
To reserve your place please visit the Gigaset training booking page or speak to a member of the ProVu team on 01484 840048.
February's Yealink technical handset training course @ UCL, London

A big thank-you to all of our resellers that attended last months Yealink technical handset training day at UCL, London. This proved to be a huge success.
Chris Wild, Technical Support Engineer of ProVu said:
The course is designed to cover the range of Yealink products and give a better technical understanding. Attendees will learn how to configure the phones and perform simple diagnostics to trace problems
Paul Hayes, Technical Director of ProVu said:
I was delighted with all the positive feedback that we obtained from all the attendees. The technical training days are a brilliant way to teach our resellers how handsets and provisioning works by demonstrating and giving plenty of hands on experience
Read the full story on our blog.
Clearance Stock

Clearance and Ex-demo stock
ProVu have a number of clearance products available at very reduced prices. All products are in as new condition (unless otherwise stated) and available for next day delivery. View a list of clearance stock