April 2009 Newsletter
In this edition we have news of:
---
Happy Birthday ProVu!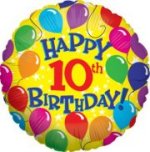 Happy Birthday to us,
Happy Birthday to us,
Happy Birthday to ProVu...
Happy Birthday to us!
This April, ProVu Communications Ltd celebrate ten years in business. Difficult at times, challenging, fun and always rewarding!
Over the last decade, ProVu have come a long way; starting with video communication in 1999, we embraced VOIP in 2001 as one of the UK pioneers, introducing both Sipura (Linksys) and Snom into the UK market. The decision we made to develop technical expertise in VoIP has paid real dividends, with our own software developments allowing us to offer the industry value added services such as fulfilment and provisioning.
Our product portfolio and expertise continues to increase, just as much as the number of grey hairs on some members of the teams heads! (Mentioning no names)!
We thank all of our clients for your business and support since 1999. We look forward to working with you further and new customers in the future.
Here's to another ten years!
ProVu and AVM Success at UC09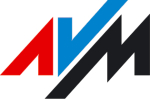 Thanks to everyone who took the time to visit us on the AVM Fritz!Box stand at the UC show in March.
We thoroughly enjoyed meeting everyone for what proved to be a very busy two days and one of the best shows we have exhibited at in recent years.
AVM's flagship product the new Fritz!Box 7270 received a great amount of interest, proving it will be a fantastic all-in-one VoIP solution, ideal for the small office, within the UK market.
We have endeavoured to contact everyone who called on the stand. Please let us know if you have not received an update to your enquiry.
If you didn't manage to get down to Olympia to see us, our April Product Open Day may be of interest to you. Alternatively just contact us for a chat to see what AVM products can offer you and your customers.
It's Arrived! Siemens Gigaset HC450 Door Entry System

It has been a long wait, but it has been worth it. At last a door entry system that works directly with VoIP. After extensive testing and UK modification trials, the Siemens Gigaset HC450 Door Entry System is now available!
In stock and ready to dispatch for next working day delivery.
Hip Hip... Hooray!
Product Highlights
Outdoor door entry unit
Door calls Gigaset handsets
Door call forwarding to external numbers over VoIP analogue or ISDN
Configurable ring tone and display message indicate bell button has been pressed
Labeled softkeys to open door/switch on light
Information by voice prompt ("door bell is ringing, press 1 to connect") gives user full control
Open door externally via PIN entry
2 illuminated keys with configurable functionality
Two separate bell buttons can talk to different associated handsets
Operation of light relay
The Siemens Gigaset HC450 is designed to work with all Siemens Gigaset DECT phones stocked by ProVu. The HC450 simply registers as an 'additional handset' to the basestation.
More Information on Siemens Gigaset HC450 Door Entry.
Konftel 300IP SIP Conference Phone - 14 Day Sale or Return Offer
Extending our existing March offer for the month of April, ProVu are running introductory offers on the NEW Konftel 300IP SIP based desktop conferencing phone, ideal for companies using VoIP and meetings for up to 10 people.
The Konftel 300IP has been tested with leading UK internet service providers and our range of IP telephones systems.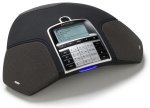 14 Day Sale or Return
ProVu are offering a 14 day sale or return. Place your order at your pricing and we will ship a Konftel 300IP so you can experience first hand all the great features. In the unlikely event you decide to return it, simply ship it back.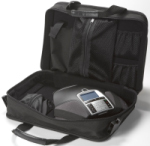 Not for Resale Unit
Purchase a Konftel 300IP at the reduced 'Not for Resale' price of £295.00. A great saving with the unit having a RRP £499.95. This unit comes in a carry case for demonstration purposes as illustrated.
Key Features:
2 Configurable SIP accounts
Record and store conference calls on included memory card - up to 2GB/35 hours
Power over Ethernet
Wideband audio - G.722
Range up to 3 metres - Suitable for 10 people
Additional microphones available to expand range
Inbuilt 5 way conference calling
LCD display screen - 128x64 px
Phonebook - 1000 entries
Call hold, call transfer, calls list
More Information on Konftel 300IP Conferencing Phone
Please contact us to express your interest.
Training and Open Day Events at ProVu in April 2009


Product Open Day - Tuesday 28th April 2009
Sales based day. Free to attend when RSVP. Win an AVM Fritz!Box 7170.
AVM Morning Session:
Examples, demonstrations, solutions.
All in one small office comms system.
ProTalk Afternoon Session:
Business IP telephone systems seminar.
Asterisk, high availability, call centres.

Snom Training Day - Wednesday 29th April 2009
Following the success of previous training days, ProVu are to hold one full day of Snom training. Addressing both commercial and technical issues regarding Snom phones and VoIP.
The day will be hands on with real-life examples and practical demonstrations. We hope you will leave with lots of fresh ideas about Snom phones. Questions are encouraged with lots of participation. It really is a fun day out, especially with lunch included.
Reserve a place. More information and training day agenda.
Snom Tip - KlarVoice Wideband Audio. Double Your Voice Quality

Exchange your standard Snom handset for a Snom KlarVoice handset to capture more than double the spectrum of voice frequencies of standard phones.
The KlarVoice handset is already standard on the Snom 820 Executive VoIP Phone. Now you can gain the same voice quality on your Snom 3xx range.
Using the KlarVoice handset works best if the voice stream between the phones uses the G.722 codec supported by the Snom 3xx family.
Read More on the Snom KlarVoice Handset
Siemens Gigaset Tip - Have a Break, Be Lazy, Forget Your Keys!

We're too excited about the final arrival of the HC450 Door Entry System to discuss anything else!
Key Feature Re-cap:
Cordless connection to Siemens Gigaset base station
Speak to guests, open the front door and turn on the light via Siemens Gigaset handset
Ring tone with voice prompt or message on display to alert that someone is at the door
Automatic call forwarding to your mobile phone to activate door functions externally via PIN
Simple configuration via Siemens Gigaset base station
Read More about Siemens Gigaset HC450 Door Entry System
Ex-Demonstration Stock
ProVu have a number of demonstration Snom, Siemens and Linksys products available at very reduced prices. All products are of high quality and available for next day delivery.
Please note that these items are subject to a reduced warranty period and no technical support is included with the purchase.
A full list and details of all the products available at a reduced price can be found at: ProVu Ex-Demonstration Stock
---