September 2009 Newsletter
September 2009 Newsletter
In this edition we have news of:
---
The Snom 870 - Technology at the Touch of a Screen!

Eagerly awaited, September sees the launch of the Snom 870 in the UK!
We've cleared the decks in our warehouse and laid the red carpet for the arrival of the top of the range Snom 870 Executive VoIP Business Phone.
The Snom 870 truly is the star of the range, with the first example of touch screen technology in Snom phones.
Available soon. Pre-order your Snom 870 now!
Here are our top reasons to treat yourself to a Snom 870 VoIP Phone:
Touch screen high-resolution TFT colour display (4.2 inches, 480x272 pixels, 25 bits colour depth)
Gigabit passthrough
WiFi connection via Snom WLAN USB WiFi stick
12 freely programmable virtual keys
Power over Ethernet
5 way conferencing
12 different SIP identities
29 Keys, 5 LED's
Photographic caller ID
2 USB ports
Trade and volume pricing, along with stock status is available to view on our Online Price List
If you do not currently have a username and password to access this information, please contact us and we will be happy to supply you with one.
For ProSys customers, product part codes are now live enabling you to pre-order on line.
AVM Fritz!Box New Firmware Release - BETA is Getting Better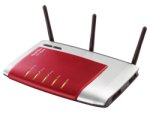 The AVM boffins in Berlin have been busy working on some new features for range of Fritz!Box Office Gateways.
These new features come via a firmware update. This is publicly available on the 7170 devices. For 7270 devices, this update is currently in beta testing and will be available soon.
New Features:
Now with an onboard SIP server. IP phones on your local network can register to the Fritz!Box, allowing internal calls to the built in DECT and FXS ports. Calls can also be routed from IP devices (such as a Snom phone) down the analogue phone line.
The cleverest part is the real time display of Quality of Service (QoS) information. The QOS engine has been much improved. Now you can see the different traffic which flows through your router. You can easily see when the router is protecting your critical voice data.
You can also choose to prioritise traffic by IP, IP range, port and port range rather than just correctly identify SIP traffic. It allows you to prioritise other traffic than VoIP as well if you want to.
Check out our screen shot of the bandwidth usage graph.
Great stuff!
ProVu Partner with Snom and QueueMetrics for Call Centre Expo 2009

ProVu and Snom invite you to meet with us at Call Centre & Customer Management Expo Exhibition 2009.
Showcasing our ProTalk High Availability Systems, together with QueueMetrics Call Centre Package and the range of Snom VoIP Phones.
Also including features: Customised Call Statistics, Retrospective Call Recording and Hot Desking.
Tuesday 22nd and Wednesday 23rd September 2009
Hall 9, Stand D37
From 10.00 to 16:30 Tuesday, to 16:00 Wednesday
Birmingham National Exhibition Centre (NEC)
If you are planning to stop by and see us, please contact us to arrange a meeting time.
Register Online to Attend Call Centre Expo
Follow ProVu on Twitter!

So we've jumped on the bandwagon! Albeit a little later than you may have expected from such a technically savvy company.
Through the power of twitter, ProVu's August 'Snom Tip' which discovered during a Snom Training Day is now FAMOUS! ProVu tweeted about this early Monday morning and a few hours later, it was featured on Snom's blog.
We promise to tweet about all things VoIP and wonderful. Reporting to you what our most popular product of the week was, the best firmware versions, what's new in our warehouse and latest ProVu events.
Grandstream VoIP Phone September Offer
Amazingly enough, some of you are still not aware we are now a Grandstream distributor!
For September 2009, ProVu are running a 'Grandstream VoIP Phone Offer' for the BudgeTone200 and GXP1200 VoIP Phones. While stocks last!
All phones are latest UK specification and are supplied with normal warranty terms.

Grandstream BudgeTone 200 - ProVu Price £35.00!

Grandstream GXP1200 - ProVu Price £50.00!
Prices quoted are ex VAT.
Provisioning is in place for all Grandstream VoIP phones - ask us about pre-configuration or endpoint management.
The promotional pricing, along with stock status is available to view on our Online Trade Price List. ProSys customers are able to place orders as normal and benefit from this pricing.
If you would like to place an order or discuss this opportunity further, please email us or telephone our office on 01484 840048
Back 2 School - Snom Training Day Report

ProVu have now completed their mini-series of small training courses for ProVu resellers, at their offices in Huddersfield.
The day was fully booked and included a special guest - Nelly Monkhouse from Snom Technology AG
Nelly has recently been appointed as Snom's UK Sales Manager. Nelly wanted to take part in our popular training course in order to learn more about Snom as she works alongside ProVu to develop the UK market.
We ask attendees to complete a small feedback form in order to help us improve from course to course.
Here are a selection of their responses:
Good quality of course material, with slides provided to look back at.
Amount of attendee participation was spot-on.
Excellent standard of presentation.
Great technical information - Tim and Paul were happy to adapt to work at any level.
Valuable question and answer session.
Ideal and conducive venue with yummy food.
One attendee also suggested we could improve the day with the addition of 'dancing girls' :)
We know techies like facts over opinions, so here are some statistics:
75% of attendees rated the course 9/10
25% of attendees rated the course 8/10
If you'd be interested in attending a future ProVu Snom Training Day (with or without the dancing girls), request to be added to our mailing list or keep your eyes peeled for updates to the web page.
ProVu Interactive Development Corner

This is your opportunity to voice your opinion and let us have your ideas and feedback on how we can help you. Here are a few of our brain waves - shout out which is your favourite and would be most beneficial to you as a ProVu customer.
Voting now closed
Snom Tip - Become a Registered Snom Value Added Reseller

If you are a currently selling Snom products or planning to in the near future, you are entitled to register as a Snom Value Added Reseller.
Become a qualified representative of Snom and gain access to Snom partner pages which contains marketing, sales and technical support.
The ProVu media site is already a useful tool: www.provu.co.uk/media
Register as a Snom VAR and reference ProVu as your distributor to receive a Free Snom Goodie Bag with your next Snom order.
If you have any questions about becoming a Snom VAR, just contact us or give us a call.
Ex-Demonstration Stock
ProVu have a number of demonstration Snom, Siemens and Linksys products available at very reduced prices. All products are of high quality and available for next day delivery.
Please note that these items are subject to a reduced warranty period and no technical support is included with the purchase.
A full list and details of all the products available at a reduced price can be found at: ProVu Ex-Demonstration Stock
Missed a previous months newsletter? No worries, look at the ProVu Newsletter Archive.